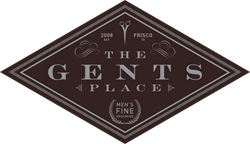 Dallas, TX (PRWEB) November 17, 2014
The Gents Place, America's premier men's grooming and lifestyle club, is pleased to announce the introduction of new membership plans to its extensive line of services and products.
The membership plans—available for as little as $50 per month—streamline the grooming experience by allowing clients to subscribe to the services they desire at the frequency that is most convenient for them. Plans are available for everyone from the "every 4 weeks" gentleman all the way up to those who prefer to have grooming services performed every week.
Additionally, members can customize their plans with enhancements such as hand and foot repairs, straight razor shaves, massages and more.
Membership at The Gents Place also includes a variety of benefits, such as VIP guest passes, the ability to book standing appointments, unlimited "upkeep" services, priority access to exclusive networking events, a free monthly shoeshine, members-only pricing on men's grooming products and more.
Founded by Ben Davis in 2008, The Gents Place provides men with an alternative to discount barbershops and effeminate salons. The brand is renowned for over-the-top amenities—including a full bar, pool tables, fireplaces, flat screens, steam showers, and more—offered in a country club-style environment.
Today—with locations in Frisco, TX, Preston Hollow, TX, and Leawood, KS—The Gents Place routinely appears on industry "Best of" lists, and has been featured in coverage by Forbes, GQ, Men's Health, the Dallas Business Journal and other media outlets.
For more information about The Gents Place membership plans, visit http://www.Thegentsplace.com/membership.