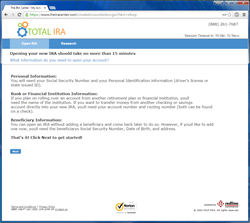 This new version of The IRA Center embodies Inspira's dedication to being an industry leader in the Payroll IRA and Contributory IRA marketplace
Pittsburgh, PA (PRWEB) July 01, 2015
Inspira announced today that it has redesigned The IRA Center, its IRA account management platform. The IRA Center is now more intuitive and user-friendly for account holders and more customizable for Inspira's clients
"This new version of The IRA Center embodies Inspira's dedication to being an industry leader in the Payroll IRA and Contributory IRA marketplace," said Ron Eggert, Chief Executive Officer of Inspira. "Having already established ourselves as a leading provider of Automatic Rollover services, we want to be on the forefront as the retirement landscape continues the shift toward IRAs as the industry's preferred savings vehicle."
The IRA Center, introduced with the Inspira's launch nearly a decade ago, was initially designed to mimic the look and feel of a 401(k) recordkeeping system. The redesign retains some of that original architecture while also moving the system forward.
The new features include a simplified account opening process, a new navigation structure, simplified access to retirement calculators and additional help content to assist novice investors throughout the site.
"The goal of this project was two-fold: to modernize the look and feel of the platform, and also improve the logic and functionality of the software," added Nathan Rupp, Product Manager.
For clients interested in a branded solution, The IRA Center now features 18 different customizable elements that can be color-matched to meet any firm's requirements. Previously, clients were limited to a short list of predetermined color templates.
Inspira plans to continue making improvements and adjustments to The IRA Center over the next 12-18 months.