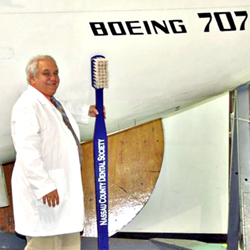 At 76, after 30 years, I'm looking at retiring.
Jamaica, NY (PRWEB) October 03, 2016
Dr. Robert Trager, the Airport Dentist at both JFK and LaGuardia, is celebrating his 30th anniversary.
Dr.Trager, 76, said he sees himself as the town dentist in a small city, tending to the teeth of many of JFK Airport's 37,000 workers.
Trager's "Smile-High Club" has cared for the dental needs of passengers as well as airport workers.
JFK has had dental facilities since the 1950s.
One day in 1985, Dr. Trager was walking through the terminals advertising for his first practice on Farmers Boulevard in Hollis, Queens. He met a patient, an airport employee, who suggested that he could buy the JFK dental practice. Trager did, and he became the new resident dentist at JFK International.
Dr. Trager met his wife, Bonnye, in his JFK dental office in 1989. When Bonnye came into his office with a chipped tooth, Trager said she immediately caught his eye. Bonnye retired from the airlines, and began working in her husband's office, where she still works today.
10 years later, JFK was to undergo renovations, including replacing the central terminal building.
Trager's office was going to be placed beyond the security checkpoint in the new layout, but he feared he would lose business from walk-in patients. As an alternative, he opened shop in an empty office outside the terminal, in Port Authority's Building 14, where he works today.
Dr. Trager suggested that airport officials add his practice to an exit sign on the Van Wyck Expressway going South to JFK Airport. The exit sign shows the "JFK Dentist."
After thirty years of operating dental practices in New York's airports, Dr. Robert M. Trager is accepting offers to buy his practice. "At 76, after 30 years, I'm looking at retiring."
ABOUT THE AIRPORT DENTIST: Dr. Robert M. Trager is the Airport Dentist at JFK and LaGuardia airports. Dr Trager's services include general entistry, emergency dental care, tooth whitening, bad breath advice and treatment, cosmetic dentistry, full and partial dentures, bonding and veneers, crowns and bridges, extractions, and treatment for gum disease. Children are welcome. All insurance plans accepted.
Press:
JFK's Airport Dentist Braces for Change
http://www.wsj.com/articles/jfks-airport-dentist-braces-for-change-1470162896
JFK's 'Smile High Club' Can Make Your Teeth White In Between Flights
http://newyork.cbslocal.com/tag/smile-high-club/
Airport dentist runs 'Smile-High Club'
http://www.theislandnow.com/roslyn/news/airport-dentist-runs-smile-high-club/article_9cfdb4fe-5fce-11e6-8919-83f439e20229.html
Office Hours:
Mon. - Fri.: 10 AM - 5 PM
Sat.: 10 AM - 1 PM (JFK Only)
Three locations:
Dr Robert M Trager, the JFK Dentist
JFK Airport Building 14 West Wing
Jamaica NY 11430
Office Manager - Bonnye
Phone 718-656-4747
email insdocjfk@yahoo.com
http://www.JFK-LGA-Dentist.com
Dr Robert M Trager is the LaGuardia Dentist too
LaGuardia Airport
Central Terminal Bldg.
Room 3636 - West Connector
Flushing, NY 11371
Phone: 718-507-7800
Dr Robert M Trager
111 - 02 Farmers Boulevard
Hollis - St Albans NY 11412
Phone 718-454-3442