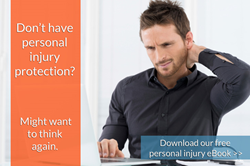 Bellevue, WA (PRWEB) July 27, 2014
Individuals that have been involved in an auto accident and sustained personal injury would greatly benefit from the newly released ebook guide for how to understand and navigate personal injury claims.
Designed to help those struggling through the aftermath of personal injury due to an auto or other type of accident, the ebook guide attempts to help individuals understand the legal process and be better equipped regain their full health with the help of their doctors and an experienced attorney.
Contact The Jones Firm to discuss obtaining personal injury representation: http://www.bellevuetrialattorney.com/practice-areas/personal-injury/
"It can be overwhelming and difficult, and all too often, injured individuals take settlements for far less than they need and deserve," says Dax Jones, the primary attorney of The Jones Firm, "All too often insurance companies and other corporate businesses do not provide the kind of recompense necessary and fair to those that have sustained personal injury."
To help prevent this type of mistake from occurring, Dax Jones has created this step-by-step guide to help individuals evaluate whether or not they may be a good candidate for a personal injury claim.
This type of provision and care is why The Jones Firm is known for making their clients their top priority.
"Our desire is to help those that have suffered personal injury heal quickly and fully as we act as your mediaries, ensuring that you get the compensation you deserve," Dax Jones states, "At The Jones Firm, know that you're in the hands of professionals that have your best in mind."
About The Jones Firm:
Lead by Dax Jones, J.D., The Jones Firm is a Bellevue-based personal injury law firm, representing clients throughout Washington. The Jones Firm responds to their clients' needs with a client-focused approach and an unyielding determination to exceed their clients' expectations.
The Jones Firm
400 108th Avenue NE Suite 209
Bellevue, WA 98004
Phone: 425.372.7900