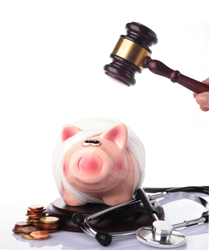 Misconceptions about the law and about personal injury lawyers can get in the way of your ability to successfully file a personal injury claim.
Bellevue, WA (PRWEB) March 23, 2015
Anyone who thinks they know what they need in a personal injury attorney should think again. The Jones Firm's latest article talks about the ten things that every personal injury accident victim should know before choosing a personal injury attorney in Bellevue.
"We find that many people misunderstand or are confused by personal injury law and have quite a number of misconceptions that get in the way of their ability to successfully file a personal injury claim," says The Jones Firm in their article.
Unfortunately, filing a personal injury claim without the legal assistance and experience of a good lawyer often leaves the victim with a denied claim, or far less financial compensation than otherwise could have been obtained for them.
To learn more about The Jones Firm or to schedule a free, no-obligation consultation with lead personal injury attorney of Bellevue, WA, Dax Jones, follow this link: http://www.bellevuetrialattorney.com/contact-us/
Their article warns readers on how to spot bad lawyers and how to know if they've found a good one. Examples of warning signs include offering guarantees, unwillingness to talk about fees, requiring upfront payment of fees, or working in more than one or two areas of law. Ambulance chasers, attorneys that find out about those injured in a personal injury accident and contact the victim by phone, email, or otherwise, should always be avoided.
"But a good lawyer will be an enormous asset to your claim and an even bigger help to you as you recover," The Jones Firm says.
"If you're looking for a personal injury lawyer in the Bellevue area," they continue, "We are here to help you. Our lead attorney, Dax Jones, has years of experience focusing on personal injury law and has helped hundreds of clients in the Seattle and Bellevue area."
About The Jones Firm:
Lead by Dax Jones, J.D., The Jones Firm is a Bellevue-based personal injury law firm, representing clients throughout Washington. The Jones Firm responds to their clients' needs with a client-focused approach and an unyielding determination to exceed their clients' expectations.
The Jones Firm
400 108th Avenue NE Suite 209
Bellevue, WA 98004
Phone: 425.372.7900