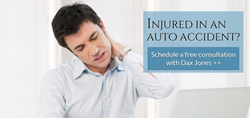 In 2013, a vehicle crash occurred every five minutes in Washington State alone...
Bellevue, WA (PRWEB) August 30, 2014
"In 2013, a vehicle crash occurred every 5 minutes in Washington State alone," The Jones Firm says in a recently released article on 2013 Washington auto accident statistics.
"A person was injured in an auto accident every 12 minutes, and a motorcyclist is involved in a crash every 16 minutes," they continue. "Based on the 2013 statistics, between now and this same time tomorrow, someone will die in a vehicle collision."
The threat of an auto accident is real and impending - five minutes from now, a Washingtonian's life could change drastically in only an instant.
In addition to taking steps to avoid a collision, such as driving defensively, leaving the cell phone alone, and refraining from driving under the influence, it's important that drivers that have been injured in vehicle accidents also understand how to pursue healing.
"In many cases," the article explains, "Insurance companies have the tendency to shirk some of their responsibilities simply because a claimant doesn't know how to legally fight for the compensation they deserve."
According to the article, Dax Jones, lead attorney at The Jones Firm, has a primary objective to free up his clients from having to handle the legal claims process, and instead, focus on their recovery process amid the other responsibilities of a busy life.
To schedule a free consultation with Dax Jones, visit: http://www.bellevuetrialattorney.com/
The article concludes, "Dax Jones would be more than willing to sit down with you, hear about your case, and advise a course of action that would be best for your specific situation."
About The Jones Firm:
Lead by Dax Jones, J.D., The Jones Firm is a Bellevue-based personal injury law firm, representing clients throughout Washington. The Jones Firm responds to their clients needs with a client-focused approach and an unyielding determination to exceed their clients expectations.
The Jones Firm
400 108th Avenue NE Suite 209
Bellevue, WA 98004
Phone: 425.372.7900