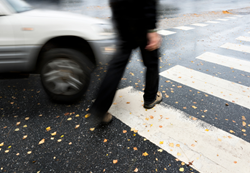 "The best accident is an avoided accident," says The Jones Firm, "When it comes to traffic safety, there is mutual responsibility."
Seattle, WA (PRWEB) October 01, 2014
In an new article, The Jones Firm outlines the responsibilities of drivers and pedestrians when it comes to sharing the roadways. The article, "Avoid a Pedestrian and Vehicle Accident", provides guidelines on the proper protocol for every type of traveler when it comes to safety and proper precautions.
"The best accident is an avoided accident," says The Jones Firm, "When it comes to traffic safety, there is mutual responsibility."
Of course, the driver of a vehicle, as the larger and thus more dangerous occupant of the road, is addressed first in the article, with proper instruction about their weighted responsibility: "Remember that you, as a driver, are far less likely to be injured in an auto accident involving a pedestrian. Pedestrians and bicyclists are far more vulnerable and more likely to sustain serious injuries."
In light of this, The Jones Firm pays particular attention to giving tips on how to give pedestrians and bicyclists a wide berth and avoid collision. The personal injuries sustained by pedestrians are generally far more serious, and sometimes deadly, than those sustained by the drivers.
To pedestrians and bicyclists, Dax Jones, lead auto accident and personal injury attorney, gives advice such as which side of the road to walk or ride on, what clothing will provide the most protection, and what traffic laws to follow.
To learn more about his experience with pedestrian and auto accident cases, follow this link: http://www.bellevuetrialattorney.com/legal-services/pedestrian-accidents/
This article is for everyone that walks, bikes, or drives—avoiding an accident makes this article well-worth the read.
About The Jones Firm:
Lead by Dax Jones, J.D., The Jones Firm is a Bellevue-based personal injury law firm, representing clients throughout Washington. The Jones Firm responds to their clients' needs with a client-focused approach and an unyielding determination to exceed their clients' expectations.
The Jones Firm
400 108th Avenue NE Suite 209
Bellevue, WA 98004
Phone: 425.372.7900