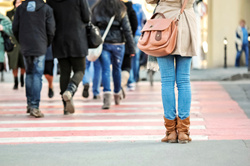 Injuries sustained from collisions with vehicles entering or exiting bike lanes and crosswalks, are a frequent occurrence in King, Snohomish, and Pierce counties.
Bellevue, WA (PRWEB) October 28, 2014
Pedestrian and bicyclist accidents are more frequent than most people suspect. According to the newly released free downloadable eBook from The Jones Firm, a car-pedestrian accident happens every three hours in the state of Washington, totaling almost 3,000 accidents each year. Unfortunately, many of the pedestrians injured are unfamiliar with the personal injury claim proceedings, and they miss out on substantial amounts of monetary compensation for their injuries.
"Injuries sustained from collisions with vehicles entering or exiting bike lanes and crosswalks, and even vehicles striking pedestrians on the sides of rural highways are a frequent occurrence in the King, Snohomish and Pierce counties," says the Jones Firm.
Their eBook provides a comprehensive guide to the claim process for a pedestrian or bicyclist injured in a collision with a vehicle.
They describe the most common insurance coverage scenarios, as well as guidance to obtaining medical treatment, the cost of a personal injury attorney, and how to know whether or not an individual qualifies for a personal injury claim.
Read about their legal services, or download their eBook to learn more about the personal injury claim process.
The injuries sustained by an auto-pedestrian accident can be severe. The Jones Firm explains that, while more of these accidents occur in congested urban areas, such as Seattle, Bellevue, and the surrounding cities, such collisions can also occur on rural roads. Locals walking along highways and roadsides can be struck by oncoming vehicles.
These auto-pedestrian accidents tend to cause more severe injuries than those in the city, due to the greater speeds of the motorists.
The Jones Firm also discusses the various unwarranted fears that many individuals have when it comes to filing a personal injury claims. The reality is that filing a claim enables the injured victim to access more of their rightful monetary compensation if the accident was not the pedestrian's fault.
The necessary paperwork, phone calls, and interfacing with insurance representatives and other legal parties can be performed by an experienced auto and personal injury attorney, saving the injured from having to complete these unpleasant, and often overwhelming, tasks themselves.
Anyone that has been injured in an auto-pedestrian accident should read the eBook from The Jones Firm so that they are able to fully understand their situation and the options available to them.
About The Jones Firm:
Lead by Dax Jones, J.D., The Jones Firm is a Bellevue-based personal injury law firm, representing clients throughout Washington. The Jones Firm responds to their clients' needs with a client-focused approach and an unyielding determination to exceed their clients' expectations.
The Jones Firm
400 108th Avenue NE Suite 209
Bellevue, WA 98004
Phone: 425.372.7900