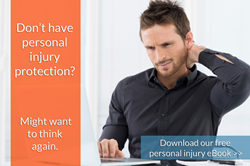 Personal injury protection insurance can save injured drivers thousands of dollars in the long run.
(PRWEB) July 04, 2014
The Jones Firm, a Seattle-based law firm specializing in personal injury and auto accidents, has released an article explaining to motorists why personal injury protection insurance (PIP) is so important—and how it can save thousands of dollars in the long run.
"If you are involved in even a minor auto accident, the financial ramifications can be enormous. Bills for the post-accident exams, X-rays, emergency room care, chiropractic care, and possible hospitalization costs for yourself and any other injured parties add up alarmingly quickly," says the Jone Firm.
Download their free personal injury eBook by visiting: http://www.bellevuetrialattorney.com/personal-injury-claim-ebook/
The Jones Firm explains that PIP pays the medical care costs for the insured drivers and any others involved in the accident, regardless of who was at fault.
"PIP money is available right away and it guarantees payment up to certain limits for medical expenses, wage loss, loss of services and funeral expenses. PIP will cover the person who is named as the insured, in addition to any passengers in the vehicle and pedestrians involved in the accident," the article explains.
The Jones Firm is available to help any motorists that have been in an accident and are struggling with obtaining their rightful monetary assistance from insurance companies or their PIP policies.
"We are here to help get you back on the road to health and wellness," says Dax Jones.
About The Jones Firm:
Lead by Dax Jones, J.D., The Jones Firm is a Bellevue-based personal injury law firm, representing clients throughout Washington. The Jones Firm responds to their clients' needs with a client-focused approach and an unyielding determination to exceed their clients' expectations.
The Jones Firm
400 108th Avenue NE Suite 209
Bellevue, WA 98004
Phone: 425.372.7900