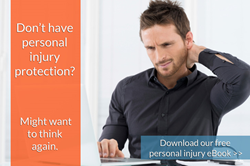 This step-by-step guide will help people understand the processes of personal injury claims.
Seattle, WA (PRWEB) July 18, 2014
A recently published downloadable ebook by The Jones Firm is the ultimate guide for anyone that has recently been in an auto accident, or has had a loved one involved in a car collision.
The guide encompasses the how-to's, what-abouts, and other pressing questions that everyone who is struggling through the shockwaves following a car accident will be asking.
The step-by-step free downloadable guide will help drivers understand whether or not they will qualify for a personal injury claim, how to interact with their physicians, how to start the claims process, and more.
Having these resources will help injured drivers avoid being taken advantage of by insurance companies. According to the Jones Firm, once a case is closed, it is very difficult to ever reopen it—because of this, it's best to have the help that's needed the first time around.
To learn more about The Jones Firm personal injury attorneys: http://www.bellevuetrialattorney.com/practice-areas/personal-injury/
The unfortunate reality is that many injured drivers and passengers fail to receive adequate compensation for their injuries due to a lack of understanding on their part, or a failure on the part of the insurance companies to make proper recompense, according to their article.
Because of this, The Jones Firm strongly recommends having an attorney help to guide the injured parties through the process, so that no deserving person's needs are unmet.
"Our desire for you is that you will heal quickly, fully, and without any hassle from insurance companies — that's why we are here as your mediaries," says Dax Jones.
About The Jones Firm:
Lead by Dax Jones, J.D., The Jones Firm is a Bellevue-based personal injury law firm, representing clients throughout Washington. The Jones Firm responds to their clients' needs with a client-focused approach and an unyielding determination to exceed their clients' expectations.
The Jones Firm
400 108th Avenue NE Suite 209
Bellevue, WA 98004
Phone: 425.372.7900