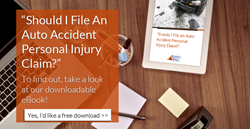 Personal injury claims can be made simple with the help of an experienced personal injury attorney.
Bellevue, WA (PRWEB) January 14, 2015
Auto accidents are never in anyone's plan for the day, and they tend to wreak havoc on a busy schedule. More often than not, accidents result in injuries that require recovery, and the insurance dealings following the accident are no one's favorite thing.
Those injured in an auto accident that results in personal injury to themselves or a family member should take a look at these expert tips from The Jones Firm, released in their Personal Injury eBook.
The Jones Firm is a law firm located in Bellevue WA, working extensively with personal injury litigation in the greater Seattle area. They aim to help injured individuals understand the personal injury claims process, and work hard to support and aid their clients through their recovery process.
The eBook begins by addressing the all-important question, "Do I qualify for a personal injury claim?" In a simple questionnaire within the eBook, The Jones Firm's free guide enables readers to know right away whether or not they qualify for a personal injury claim.
To learn more about The Jones Firm' personal injury attorneys, follow this link. http://www.bellevuetrialattorney.com/
For those readers that do, in fact, qualify, The Jones Firm begins coaching them on how the claims process will begin, what to expect during the claims process, the role of the patient, and the role of the attorney.
The free ebook guide also addresses frequently asked questions and concerns, such as how a client will afford to pay an attorney. The Jones Firm explains that they follow a contingent payment plan, saying, "Instead of requiring an upfront fee, the attorney is simply paid out of the proceedings of the claim. When the claim is paid by the insurance company, the attorneys fees are covered as a segment of that amount."
At every turn, The Jones Firm is focused on freeing their clients from worry concerning their personal injury claim, enabling them to simply focus on their recovery. Dax Jones consistently tells his clients that, "It's my job to handle your claim, and it's your job to get better."
For those recently injured in an accident, this eBook is a must read, providing a succinct and detailed look at the personal injury claims process and how The Jones Firm is able to help process a claim.
About The Jones Firm:
Lead by Dax Jones, J.D., The Jones Firm is a Bellevue-based personal injury law firm, representing clients throughout Washington. The Jones Firm responds to their clients' needs with a client-focused approach and an unyielding determination to exceed their clients' expectations.
The Jones Firm
400 108th Avenue Northeast #209
Bellevue, WA
(425) 256-2351