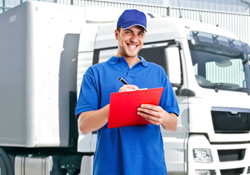 According to the National Highway Traffic Safety Association, there were 3,921 fatalities due to truck related motor accidents in 2012.
Seattle, WA (PRWEB) February 25, 2014
Personal injury claims are some of the most costly and taxing for everyone involved. In light of the devastation so frequently seen following an accident with a truck, the Jones Firm decided to write a blog post regarding the ways to safely drive with large vehicles.
The Jones Law Firm specializes in personal injury claims. Each year, they see many clients who have suffered tragic personal injuries due to collisions involving semi-trucks and other big rigs, wreaking pain and suffering onto the victims and their families.
"Many of our clients realize that, in retrospect, if they had known the proper way to share the road with semi-trucks it may have made all the difference," the Jones Firm says. According to the report they cited from the National Highway Traffic Safety Association for 2012, there were 3,921 fatalities due to truck related motor accidents. The report also indicated that this was an increase of 3.7% from the year before.
"We feel that the amount of accidents could be decreased if the public were properly educated on the rules of the highway in relation to big trucks," a firm representative affirms. The article proceeds to give a full list of advice on how to be more cautious and conscientious around trucks, such as respecting the size and speed of a truck, always yielding, never tailgating, the proper protocol for passing a truck, and other various snippets of wise advice.
The article reminds drivers to be respectful of the size and speed of big trucks—something that many drivers all too easily forget in the daily interaction with them on roadways. In the big picture, big trucks don't appear to be going anywhere anytime soon, so drivers had better learn how to deal with them in the right way.
About The Jones Firm:
Led by Dax Jones, J.D., The Jones Firm is a Bellevue-based personal injury law firm, representing clients throughout Washington. The Jones Firm responds to their clients' needs with a client-focused approach and an unyielding determination to exceed their clients' expectations.
The Jones Firm
400 108th Avenue NE Suite 209
Bellevue, WA 98004
Phone: 425.372.7900