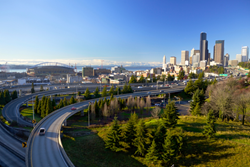 The Seattle metro area is responsible for 35% of all Washington state car accident fatalities.
Belleuve, WA (PRWEB) March 13, 2015
The busy and frequently traffic-packed streets of Seattle can be treacherous territory for drivers. To help commuting residents stay safe in their daily commute, the recent article from The Jones Firm offers drivers 3 simple steps that drivers can use to stay safe while on the road.
The first of their three steps is to pay special attention when driving on back roads and through city streets. Contrary to popular belief, the article states that country roads and city streets are more often where accidents happen, rather than busy highways.
The Jones Firm cautions Seattle residents that, "The Seattle metro area alone is responsible for 35% of all Washington state car accident fatalities."
Another step drivers can take to protect themselves from car accidents is to learn about how most accidents in Seattle are caused. While most would quickly and incorrectly conclude that the top cause is drugs and alcohol, the article gives the real top cause for accidents that occur in the greater Seattle area.
Despite many people's best efforts, some accidents cannot be avoided. In which case, The Jones Firm recommends that injured individuals immediately contact an personal injury car accident attorney. These educated and skilled professionals can help victims receive the monetary compensation in order to cover for their loses.
For more information about the services that The Jones Firm provides, visit their website at http://www.bellevuetrialattorney.com
About The Jones Firm:
Lead by Dax Jones, J.D., The Jones Firm is a Bellevue-based personal injury law firm, representing clients throughout Washington. The Jones Firm responds to their clients' needs with a client-focused approach and an unyielding determination to exceed their clients' expectations.
The Jones Firm
400 108th Avenue NE Suite 209
Bellevue, WA 98004
Phone: 425.372.7900