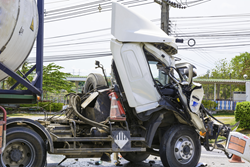 Bellevue, WA (PRWEB) September 03, 2014
Washington has many auto accidents every day. Many of these accidents, unfortunately, involve heavy trucks, and have severe consequences as they impact the lives of those involved. The Jones Firm's newly released article discusses how they handle these difficult cases.
Dax Jones, the lead attorney of The Jones Firm, has worked with trucking accident litigation cases for over a decade. He explains that trucking companies are usually backed by multiple lawyers and lots of money, making it difficult for victims to fight these corporations with experienced help from an attorney familiar with trucking accident litigation.
For more information about The Jones Firm legal services, follow this link: http://www.bellevuetrialattorney.com/legal-services/truck-accidents/
"Common reasons for trucking accidents that provide excellent grounds for litigation are such mistakes as; reckless or aggressive driving, driver error, brake or mechanical failure, driver fatigue, drunk driving, negligent driving, overloading, overturning trucks, shifting loads, sudden stops, unlicensed drivers, failure to maintain safety systems or undergo appropriate regular inspections, traffic violations, weather, and more," the article says as it discusses the process that Dax Jones goes through in gathering evidence and material for a case.
This process can be long and difficult, but The Jones Firm focuses on their goals of keeping the victim informed of the proceedings but protected from having to deal with the stress of resolving the case issues.
"Rather than focusing on phone calls and paperwork, you will be able to focus on recuperation and recovery from trauma," the Jones Firm says, "Together, we can fight so that you are awarded the compensation that you deserve and need to get your life and the lives of your family members back on track."
About The Jones Firm:
Lead by Dax Jones, J.D., The Jones Firm is a Bellevue-based personal injury law firm, representing clients throughout Washington. The Jones Firm responds to their clients' needs with a client-focused approach and an unyielding determination to exceed their clients' expectations.
The Jones Firm
400 108th Avenue NE Suite 209
Bellevue, WA 98004
Phone: 425.372.7900