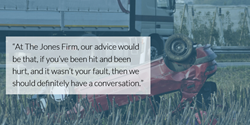 Never settle too early. Doing so revokes your rights to file for further compensation, should your injuries turn out to be more extensive that originally anticipated.
Bellevue, WA (PRWEB) November 10, 2014
"Trucking accidents are some of the most devastating collisions," says The Jones Firm in their recently released article. "When a passenger vehicle is involved in an accident with a large semi-truck, rarely do the passengers and their vehicle leave the scene in better condition than the trucker and the truck."
Individuals injured in trucking accidents usually suffer extensive injuries that need equally extensive medical treatment in order to heal. The recovery process can be long, hard, and expensive. Consequently, the article from The Jones Firm emphasizes that it's important to never settle after a trucking accident without fully understanding the case.
According to the article, it is a poor choice to settle if the injured individual does not know the full extent of their injuries or the damage to their property. It can also be ill advised to sign a settlement agreement if the individual does not have a medical treatment plan in place or a certain estimate on the amount of wages they will lose as a result of the accident.
'In essence," says The Jones Firm, "Our recommendation is to never settle too early. Settling your case revokes your rights to file for further compensation, which could leave you with a load of medical bills to pay if your injuries turn out to be more extensive or require more care than you originally anticipated."
For those injured in trucking accident collisions, it is highly advisable to work with an auto accident personal injury attorney when dealing with settlement agreements with insurance companies. The legal expertise and experience an attorney can offer is invaluable, and they can handle the claims case while the injured individual is free to completely focus on their recovery and healing process.
For those interested in learning more about the services offered by The Jones Firm, simply visit: http://www.bellevuetrialattorney.com/services/
About The Jones Firm:
Lead by Dax Jones, J.D., The Jones Firm is a Bellevue-based auto accident and personal injury law firm, representing clients throughout the greater Seattle area. The Jones Firm responds to their clients' needs with a client-focused approach and an unyielding determination to exceed their clients' expectations.
The Jones Firm
400 108th Avenue NE Suite 209
Bellevue, WA 98004
425.372.7900