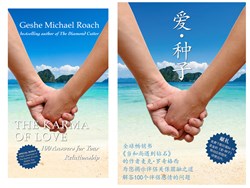 Geshe Michael had asked me to write a list of all the characteristics I would like in a partner, and it was really as though the list had come to life.
Singapore (PRWEB) November 05, 2013
Before the launch events in Singapore and Malaysia could even occur, renowned author and speaker Geshe Michael Roach's book, The Karma of Love, had sold 1,200 advanced copies in just three days in both English and simplified Chinese. These copies were sold 10 days before the book's official Singapore launch on July 30th.
Roach is the author of the Diamond Cutter, the Buddha on Business and Life which has been a best-seller since its publication in 2000. The Karma of Love is Geshe Michael's first book in several years and is presented as a series of 100 questions and answers for your relationship problems.
The questions featured in the book are based on those asked by audiences all over the world during decades of Geshe Michael's teachings on how to find a partner, keep them, and achieve lasting happiness together – what he calls the Karma of Love.
The answers to the 100 questions are drawn from the teachings of The Diamond Cutter, the oldest dated printed book in the world, which Geshe Michael used as the basis of his first best-selling book. In the Karma of Love, Roach applies these powerful ideas to every aspect of relationships: trust, communication, addictions, fun, in-laws, sex, peace, self-esteem, and many other issues.
Geshe Michael was in Singapore on July 30th and 31st, 2013 to give a series of talks – Relationships NEVER End - about relationship advice in his book at the Shine Auditorium on Beach Rd. He officially launched the book in Singapore and in conjunction with this launch; he conducted a special marriage ceremony at the culmination of the talks. This marriage was between a local couple who met after following his advice on finding and keeping relationships.
Newlywed, Grace Ng, after the marriage, stated, "He (my husband) was exactly the man I had been looking for all this time. Geshe Michael had asked me to write a list of all the characteristics I would like in a partner, and it was really as though the list had come to life."
Geshe Michael then flew to Malaysia to conduct an additional public talk in Kuala Lumpur before leading a three day, two night retreat in Johor Bahru to explore the principles in the book more deeply. More than 150 people will fly in from countries as diverse as China, Taiwan, Japan, Vietnam, Australia, Malaysia, and Singapore to attend these events.
The Singapore edition, Karma of Love, was translated into simplified Chinese by members of Diamond Wisdom Pte Ltd, the Singapore company which organizes Geshe Michael's events in Singapore. The team achieved the feat of translating 600 pages of text in a mere ten week period so that it could be published in time for Geshe Micheal's visit.
A special version of the book, created especially for the Singapore market includes a unique complimentary software application named KOLA(The Karma of Love Application). Each book contains an individualized PassCode that unlocks the mobile application. KOLA aims to solve relationship problems on the spot. Users can search for answers to problems they are facing and instantly be provided with the solution to that particular problem. The application is available across all platforms: iPhone, Android, iPad, Laptop and Blackberry.
KOLA was created by Micrron Pte Ltd, a Singapore company; the application was soft launched at the public talk on July 30th 2013 in Singapore and on August 1st 2013, at the Kuala Lumpur public talk.
For further information, please contact http://www.DiamondWisdom.sg
Diamond Wisdom Pte Ltd organizes business seminars, business retreats and follow-up coaching sessions by Geshe Michael Roach in Singapore. We are especially committed to being the South East Asian organizer and hub for the 12 Diamond Cutter Institute retreats Geshe Michael will teach around the world over the next six years. Geshe Michael Roach wrote two best-selling business books, The Diamond Cutter - The Buddha on Managing Your Business and Your Life and Karmic Management - What Goes around Comes around in Your Business and Your Life. His latest book, The Karma of Love, will be available in Singapore in August 2013.