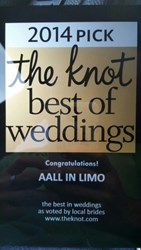 We committed ourselves to excellence and it feels great to see positive responses from our clients we drove for their weddings. - Aall In Limo Chauffeur
San Diego, CA (PRWEB) January 31, 2014
Aall In Limo, a San Diego limousine company, won the 2014 pick of The Knot Best of Weddings proving to be the best limousine company in the area offering wedding transportation services.
The Knot is known to offer everything couples need to plan their wedding including the best wedding vendors. Best Knot weddings are voted by local brides and this year's best wedding vendor offering limousine transportation to weddings according to San Diego brides is Aall In Limo.
Aall In Limo founded by Michael Reifeiss in 2005 already won twice the San Diego Award in the Limousine & Car Services category both in 2012 and 2013 and now the company proved it once again.
"We committed ourselves to excellence and it feels great to see positive responses from our clients we drove for their weddings," stated Mike Reifeiss. "This makes us deeply grateful and truly happy, I honestly feel honored that these clients have chosen Aall In Limo," he added.
As a top wedding pro limo company Aall In Limo continues to provide excellence in wedding transportation services.
"We recognize the importance of your wedding day and will make sure that you and your significant other are treated as royalty. At Aall In Limo & Party Bus, our number one goal is to ensure all your wedding plans are flawlessly executed. We will help make your wedding day exactly how you've always imagined it - perfect! To learn more about our wedding limo services, please call us today. We will be honored to drive you on your wedding day!" – quote from Aall In Limo's website.
About Aall In Limo
Aall In Limo is San Diego's premier limousine company specializing in providing professional customer service at an affordable price. The company provides high quality transportation services with limos and party bus throughout San Diego County. Services include transportation to special events, wine tasting tours in Temecula and brewery tours to San Diego's best breweries. Call 1-858-336-1894 to book your limo today!