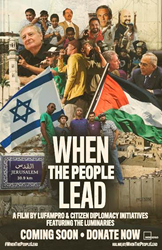 We hope this film, and the music that accompanies it will bring massive awareness to this situation, and inspire others to join us in helping resolve any human injustices taking place; ultimately co-creating a more loving world."
Los Angeles, CA (PRWEB) October 26, 2015
The Luminaries, a conscious Hip Hop collective from Venice Beach, California, have dedicated ten years of collaboration with the mission of bringing a message of peace, love, and unity to the world through their recordings and touring efforts. They've written numerous songs with messages that include "Peace," "Be The Change," "Show The World," and "Free Energy," to name a few. The band has performed at festivals like Lightning in a Bottle, Enchanted Forest, Harmony Festival, Unifier, Firefly Gathering, Beloved Festival, and Earthdance, and have shared the stage with artists such as Michael Franti, K 'Naan, The Glitch Mob, Matisyahu and Trevor Hall, as well as music industry legends like KRS-ONE, STS9 and India Arie.
In 2011, Luminaries were invited as global ambassadors by Citizen Diplomacy Initiatives to participate in a 10-day tour through the Middle East promoting peace. The crew visited youth centers, college students, and political dignitaries sharing their cultural philosophies, while performing concerts in Israel and Palestine, including the widely attended Taybeh Music Festival. "It is our intention to share our personal story of what we experienced by creating a feature film documentary for everyone to see. We hope this film, and the music that accompanies it will bring massive awareness to this situation, and inspire others to join us in helping resolve any human injustices taking place; ultimately co-creating a more loving world."
Launched on October 21st and running until December 4th, the 45-day campaign has a $24,500 fundraising goal. Funds raised will go towards costs such as post production services, music score and soundtrack, editing the principle photography, color correction of the film, upgrading audio enhancement and sound quality, and distribution and replication. A variety of backer rewards have been allocated, such as digital film and album download, name mention in credits, tickets to the LA film premiere, workshops with group members, and Associate and Producer credits, to name a few.
To view the campaign, go to http://igg.me/at/WhenThePeopleLead. View the latest on Facebook: https://www.facebook.com/LuminariesMusic and hashtag #whenthepeoplelead on social media.
About Luminaries:
Formed in Venice Beach California, and immersed in one of the most culturally diverse communities in LA, the Luminaries are the heart-driven, and service oriented Hip Hop emissaries of peace. As catalysts for change rather than just musicians, each member has played the role of teacher, social worker, and activist; from working with homeless youth to defending the nation's largest urban community garden, The South Central Farm. With a mantra of "Peace Worldwide Starts From Inside!", the Luminaries continue to embody the power of service by taking their message to international crowds.