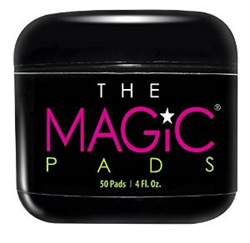 I love the natural effect, the natural ingredients, and how every day I feel like my skin is getting healthier and healthier
New York City, NY (PRWEB) November 26, 2014
Rob Harmon, an actor and talented makeup artist from New York, is proud to announce the launch of an innovative skin care cleansing product called The Magic Pads.
Unlike other products that can contain harsh and artificial ingredients that can irritate sensitive skin, The Magic Pads are imbued with a unique blend of Glycolic acid, Organic Willow Bark, Hualuronic acid, and Vitamin E. These ingredients work together to penetrate deeply to help clear acne and blemishes, smooth, tighten, and shrink pores, exfoliate, and tone for noticeably healthier and younger looking skin.
The timing for the launch of The Magic Pads could not be any better; winter is coming up fast and along with colder temperatures will come dry, itchy and flaky skin. The Magic Pads' healing blend of ingredients can help to soothe winter skin, making it feel soft and smooth instead of itchy and cracked.
As a spokesperson for The Magic Pads noted, every compact and easily portable jar contains the recipe for the blemish free skin that both guys and gals have been dreaming of. In addition to the aforementioned active ingredients from Mother Nature, The Magic Pads are in an Organic Aloe Vera juice base, which creates a cooling and refreshing tonic that brings a revitalizing tingle to any cleaning regimen.
In the relatively short time they have been available, The Magic Pads have quickly become popular with anybody who tries them. As a bonus, they are 100 percent cruelty free, 100 percent vegan, 99 percent organic, and 100 percent effective.
"Creator Rob Harmon has put the same effort and dedication into formulating his unique product as he has into all his ventures," the company spokesperson said, adding that from his time spent as an actor where he tackled many demanding roles and earned the Best Actor award at the Festival Del Sol, to his successful career as a talented makeup artist in New York, every challenge is simply an opportunity for success.
Customers who have tried The Magic Pads are already writing glowing reviews of their experiences with the innovative skin care product.
"I love the natural effect, the natural ingredients, and how every day I feel like my skin is getting healthier and healthier," explained one happy customer.
"I feel confident without makeup, and it is amazing."
About The Magic Pads:
Everyone deserves flawless skin. The Magic Pads are the world's newest and most revolutionary product illuminating the road to more perfect skin. Behind it all is Rob Harmon, makeup and hair stylist extraordinaire. For more information, please visit http://www.themagicpads.com/