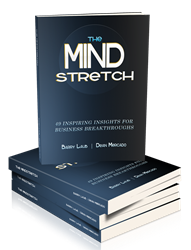 We have the best of the best out there reading our book The Mindstretch and giving it 5 Star reviews
Long Island, NY (PRWEB) July 16, 2013
Co-authors of the Mindstretch provide excitement to the book launch party experience, Tuesday July 16th 2013. A business book, The Mindstretch… 49 Inspiring Insights for Business Breakthroughs is now available for purchase via the Amazon.com online bookstore. Co-authors Barry Laub and Dean Mercado have lined up an unprecedented list of special offers and bonuses from top business professionals for a one of a kind book release event.
The book is based on working through barriers to success, which Laub and Mercado identified in their years of working with entrepreneurs and other business professionals. Designed to impact professionals in any business or career, the book lays out a foundation filled with insights to enlighten and inspire the reader's mind.
The writers decided that a business book this unique had to have a book launch party that makes as great of an impact as the book itself. So, professionals who buy the book will receive some amazing bonus gifts from various experts to further their careers.
Here is how the book launch party works. Buy the Book on Tuesday July 16th. After ordering at least 1 copy of "The Mindstretch" from Amazon, readers are eligible for all bonuses listed on a special website at http://www.thebooklaunchparty.com
"We are so happy how so many of our peers have stepped up to the plate with support for our game changing book," states Laub. "We have the best of the best out there reading our book and even giving them 5 star reviews but they didn't stop there, they bought into the spirit of the book and are lending their talents to inspire others to buy The Mindstretch."
The list of business coaches and authors who are included in the book launch party mega bonus giveaway are well know names such as:
Peggy McColl- President and Founder of Dynamic Destinies, Inc. who is sharing the free gift of The One Secret Manifesting Technique that Will Have You Achieving Your Goals Like Magic.
Dr. Joe Rubino- an acclaimed personal development trainer, life-changing success & life-optimization coach & best-selling author sharing his 10 Ways to JumpStart the Law of Attraction in Your Life. That's a $47 Value.
Joe Nunziata- a best selling author, professional speaker, spiritual teacher and life & business coach, who is sharing his new book Karma Buster that was featured in the 2012 Academy Awards and Emmy Awards gift bags.
And many more offers which can be found at http://www.thebooklaunchparty.com
Mercado adds, "This book was written in a fashion that cuts to the chase... it gets right to the point and says only what needs to be said and not a word more."
Together, co-authors Barry Laub and Dean Mercado have 60 plus years of business experience. As a result of this expertise, they have identified inhibiting factors for business success. The Mindstretch addresses these, and offers insights into the main disciplines of business. Readers are presented with a narrative intended to alter their state of mind in a positive way for business.
The Mindstretch is available on Amazon.com and the authors' website at http://www.TheMindstretch.com.
###
About the authors:
Barry Laub is President of Infinite Resources, Inc. is a highly sought after business visionary, strategist and entertaining motivational speaker. His years of training experience and success set him apart from the rest. Barry's transformational leadership is known for taking businesses and individuals from where they are to where they want to be.
Dean Mercado, President of Online Marketing Muscle® is a well-respected marketing coach, strategist, author, and speaker with expertise on helping businesses and independent professionals increase their visibility, credibility, and reach within their target market.