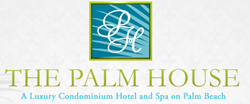 The Palm House has been looking for a world renown designer for quite some time, since we were looking for someone who could complement the luxury upscale features and amenities we will be offering. - Niklaus Leuenberger
(PRWEB) December 03, 2013
While Inge's name is not new to the luxury hotel design industry, the owners of the Palm House Hotel are excited to have formed a much sought-after partnership with one of the foremost hotel designers in the world.
"The Palm House has been looking for a world renowned designer for quite some time, since we were looking for someone who could complement the luxury upscale features and amenities we will be offering," says Niklaus Leuenberger, spokesperson for the hotel. The hotel is situated just a few quick steps from the Atlantic Ocean and positioned among some of the world's most expensive real estate, The Palm House Hotel and Spa is set to become one of the top luxury hotel destinations in the country.
With the partnership underway, The Palm House will take advantage of Inge's keen eye for fashion, interior design, color and textures to create an award-winning hotel experience, which will complement the prestigious Palm Beach address. "I am thrilled that we have been trusted to design a hotel that means so much to its owner as well as to Palm Beach," says Inge Moore, the award-winning Principal of The Gallery HBA London & President of HBA Europe. "Everything I love to work with is here – glamour, nostalgia, true style and a scattering of seductive extravagance," says Inge Moore.
Inge Moore has vision of her own, winning the prestigious 2013 Designer of the Year distinction awarded by Boutique Design Magazine & HOTELS Magazine during the 33rd Annual Gold Key Awards for Excellence in Hospitality Design. Inge's instinct for stunning designs was evident as noted by this colleague's comment: "Not only did HBA Europe produce a staggering number of stunning projects, but the work done for the The Alpina Gstaad and St. Regis Rome set her apart in the eyes of our judges," said Michelle Finn, President, Hospitality Media Group. "Inge's passion for design and visionary acumen has made her the guiding spirit for her London based team."
As Palm Beach residents and future hotel guests look for the upcoming hotel grand opening, many wait with eager anticipation of what the completed interior design will look like. "Palm Beach is a fascinating island community drenched by warm ocean breezes and beaches second to none in beauty and prestige," says Paul Murphy a long-time resident and business owner. "We welcome and look forward to the opening of The Palm House Hotel which will no doubt become another jewel here on the island."
About Inge Moore:
Inge Moore, Principal at HBA, Europe began her career in South Africa working in museum design where she collaborated with Museum Africa to build the countries first post-apartheid museum. She went on to lead the interior design department of an architectural practice in the creation of six prestigious super casino's before coming to London in 2001 to join HBA. Since then, Inge has been key in establishing the London studio as one of the hospitality industry's most inspiring design practices.
http://www.pinterest.com/pin/345510602633663260/
About HBA/Hirsch Bedner Associates:
World-renowned as the Number 1 Hospitality Design Firm, HBA/Hirsch Bedner Associates unveils the world's most anticipated hotels, resorts, and spas. Leading the hotel design industry since 1965, HBA remains keenly attuned to the pulse of changing industry trends governed by today's sophisticated traveler. The company's international presence, depth of experience, and detailed industry knowledge enables them to identify interior design trends at their source, make definitive predictions about new directions and innovations, and influence design standards at a global level. HBA's ultimate objective is to add value, raise standards and enhance the brand of a project's owner and operator.
http://www.hba.com/
About The Palm House Hotel:
As the newest, most anticipated condo hotel on Palm Beach, The Palm House is quite likely the last real estate venture of its kind to be permitted for development on this exclusive island destination. For a select few, this will be a rare opportunity to own a piece of Palm Beach – one of the most coveted addresses in the world. Located on majestic Royal Palm Way, steps from the beach and a short stroll from Worth Avenue, everything about The Palm House is exceptional, from its private club and signature spa to its lushly landscaped pool, fitness center and dining choices from sophisticated to relaxed. Prepare to be pampered with attentive, five-star service and world-class amenities.
http://palmhousehotel.com/