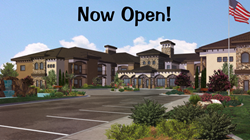 St George, Utah (PRWEB) July 18, 2015
Regarding the new facility, The Retreat at Sunbrook's official spokesperson, David Gardner, said, "The Retreat at Sunbrook will be the premier community for seniors in southern Utah. The location has been strategically selected to offer both ambiance as well as convenience. The community is located adjacent to a major thorough faire giving it fantastic access and proximity to major medical services, shopping, restaurants, etc. The community is also located adjacent to a year-round stream offering a peaceful, residential ambiance."
The Retreat at Sunbrook is the newest assisted living community in Southern Utah. It will offer a myriad of amenities and features including the finest dining experience in Southern Utah, the most spacious apartments, and the best care services (Rated #1 in St. George). The community will also offer a host of recreational amenities including a Full-service Salon & Spa, Bathtique, Snoezelen, Shuffleboard, Bocce ball court, and Putting Green.
Mr. Gardner added, "The design and construction for The Retreat has been a huge success. No expense has been spared to offer our residents what they deserve and desperately need. Most of the work left entails adding the finishing touches to the facility such as floor covering, painting, carpentry finishes, etc. Nearly 85% of the community has been reserved at this point, and we are expecting 100% occupancy by our Grand Opening Ceremony to be held on July 18th."
For more information on retirement communities in St George, Utah, or assisted living in Utah, visit http://www.sunbrookassistedliving.com.
About Retreat Senior Living
The Retreat Senior Living is an organization based in St George, UT, which is dedicated to offering high-end independent and assisted living services to seniors throughout the Southern Utah region. One of its primary aims is to help seniors age on their own terms. Its apartments are known for being the most opulent and forward thinking. Its care services and fine dining have consistently been rated #1 by its peers. Its investment and emphasis in outdoor amenities for its residents is second to none. For more information, visit http://www.sunbrookassistedliving.com.
Contact:
David F. Gardner
dgardner(at)retreatsunbrook(dot)com
Retreat at Sunbrook
359 North Dixie Drive
St George UT 84770
435-272-0202
http://www.sunbrookassistedliving.com/