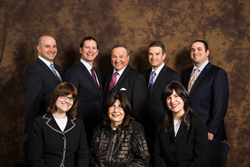 New Jersey (PRWEB) March 19, 2015
Philadelphia, PA | New York, NY | Who Are Considered Super Lawyers and Rising Stars?
Super Lawyers recognizes attorneys who have distinguished themselves in their legal practice. The Rising Stars list recognizes outstanding attorneys 40 years old or younger, or who have been in practice for 10 years or less. Selection of the attorneys on both lists is through the use of a patented multiphase selection process.
Harry Rothenberg, Esq. and Marc J. Rothenberg, Esq. were both named 2015 New York Super Lawyers. Ross Rothenberg, Esq. was named a 2015 New York and New Jersey Rising Star and Scott Rothenberg, Esq. was named a New York Rising Star. Additionally, Franklin Strokoff, Esq. was named a New Jersey and Pennsylvania Rising Star.
The Rothenberg Law Firm has been handling catastrophic personal injury cases for over four decades, recovering hundreds of millions of dollars on behalf of thousands of clients. The firm has offices across the Tri-State area in New York, NY, Philadelphia, PA, Cherry Hill, NJ, Hackensack, NJ, and Lakewood, NJ. An experienced attorney at The Rothenberg Law Firm LLP can be reached at 800-257-4878 or by filling out a free online case evaluation form. The initial consultation with the Rothenberg Law Firm LLP is always free, and the firm only collects a fee if it is able to recover damages for you.