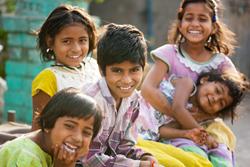 Every child deserves to start the race equally
San Francisco, California (PRWEB) April 21, 2015
The School of Games, an immersive video game platform that adapts to each child's learning ability, began their fund raising campaign on indiegogo last week to turn an immensely loved prototype into a complete product for children under the age of 6 years. Teachers, parents and organizations that care about social impact through early child education can support the school of games here : https://www.indiegogo.com/projects/the-school-of-games
The adaptive platform takes the child on an endless learning experience through exploration, inquiry, awareness and application through games that are created using a well curated curriculum. The real time feedback about the progress of the child is used by teachers to assist students that are struggling to ensure no child is left behind.
The School of Games delivers quality education by bringing the strength of pedagogy and data together. It ensures learning outcomes are being achieved as the child plays the game and measures the progress against the pillars of neuroscience, namely attention, memory and multitasking.The games on the platform are culturally relevant in child's mother tongue.
With over 20,000 iPad learning apps and 1.5 million devices in schools (http://goo.gl/sPtYng), every privileged child is getting smarter by the day thanks to the growth of edtech market. The affluent class has access to state of the art infrastructure and world class technological exposure to get educated. However, about a third of four year olds in US don't have access to high quality pre-schools. According to UNESCO 112 million children worldwide under the age of six don't receive quality education.
"We want to change that as every child deserves to start the race equally," said Arjita Sethi, founder of the School of Games. "It is hard to train enough teachers and build enough quality schools across the world. Thanks to the extremely affordable technology we have today, we can effectively scale this to all parts of the world".
"The school of games has a lot of potential to actually efficiently teach these children due to their holistic and data driven approach," Managing Director of Startup Next , Mike Grandenetti said. "I have been personally impressed with the energy and passion this team has shown to solve this hard yet important problem to make this world an equal place for all.
With funds raised from this campaign, The school of games want to start its pilot program in schools in the mission district of san francisco and three partner schools in India. Further its wants to create an ecosystem of educators, researchers and indie game developers to keep enhancing the platform for increased efficacy. Those interested in supporting can learn more here : https://medium.com/@theschoolofgame/adios-word-gap-and-digital-divide-9c05c9bacda5
About The School of Games:
The School of Games is a social venture started in San Francisco with a mission to deliver quality education by providing personalized learning experience to every child around the world. The School of games was founded by Arjita Sethi, who is currently pursuing Masters of social entrepreneurship at Hult international business school.