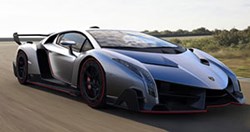 (PRWEB) February 09, 2014
TheSuperCars website provides information on the top brands of high-performance sports cars, including fast, exotic, hybrid, and fuel efficient automobiles. Most Expensive Cars in the World: Top 10 List 2014-2015 provides an up-to-date list of the highest priced automobiles, ranging into the millions of dollars. All models listed are street legal production cars, not concept vehicles, which people can legitimately own – if they can afford it.
The most expensive car listed is the Lamborghini Veneno, valued at $4,500,000. With just three units produced each year, the automobile can go from 0 to 60 in 2.8 seconds. The Lykan Hypersport, with a 750 horsepower engine and an estimated top speed of 245 mph, is in second place at a cost of $3,400,000. Another sporty vehicle on the top 10 list is the $2,400,000 Bugatti Veyron Super Sports model, which used to be the most expensive street legal production car. It can reach a top speed of 267 mph.
In fourth place, the $1,850,000 Aston Martin One-77 and Pagani Zonda Cinque Roadster are tied, while the Zenvo ST1 is fifth. The list of the highest priced automobiles in the world continues with the Lamborghini Revention in sixth place. This $1,600,000 powerhouse, with only 20 in production, is tied with the Koenigsegg Agera R. Able to reach 270 mph, this car comes with an electronic limit of 235 mph, which can be unlocked by the company after signing a waiver.
Other cars on the list include the Mayback Landaulet, a convertible rooftop luxury car, and the McLaren P1, a limited production sports car with a hybrid 3.8 liter V8 twin-turbo engine. The Pagani Huayra, and Hennessey Venom GT Spyder (capable of 0-60 in 2.5 seconds) sports cars, round out the top 10. While the list represents some of the most powerful cars on the market, it covers just a fraction of the popular supercars on the site. TheSuperCars.org covers popular brands such as Audi, BMW, Jaguar, Corvette, Ferrari, Porsche, and other notable high-performance/priced cars.
To learn more about supercars and to read Most Expensive Cars in the World: Top 10 List 2014-2015, go to http://www.thesupercars.org/top-cars/most-expensive-cars-in-the-world-top-10-list/