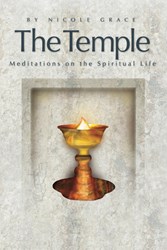 "…deeply appreciated…," Her Majesty of Bhutan, The Royal Grandmother, Ashi Kesang Choeden Wangchuck
San Francisco, CA (PRWEB) December 02, 2013
Hundreds of seekers overflowed out of Crystal Way bookstore onto Market Street last Saturday night at the launch event for Buddhist mystic and monk Nicole Grace's new book, The Temple: Meditations on the Spiritual Life. Bundled up and clutching steaming cups of Bhutanese tea, attendees crowded around the picture window and were queued all the way down Market Street, for a chance to hear the author speak, read selections from her book and get their books signed. Someone mounted a speaker above the doorway and Grace's voice was projected out into the Castro night. Neighbors were hanging out their windows and leaning over fire escapes, listening to the talk and later, the music playing, while the line for the book signing inched forward. Cars slowed and rolled down their windows, a couple even pulled over and double-parked to listen.
After the success of Grace's previous book, Bodhisattva: How To Be Free, Teachings To Guide You Home, devoted readers in the Bay Area appeared in a party mood for the launch of The Temple, several days before the official publication date on Thanksgiving (November 28, 2013).
Marveling at the unusually large turnout for a book signing, Crystal Way's owner Maria Stanford was overheard saying, "Oh my god, you're a rock star!" to the author, as the last people on line finally fit inside the store and the door to the chilly night air closed behind them.
The Temple follows a similar format of accessible teachings and verse as the perennial favorite of spiritual seekers, Dhammapada: Sayings of the Buddha. However, The Temple uses contemporary imagery and describes experiences that will be familiar to anyone living in the world today. Using seemingly ordinary moments to draw readers in, Grace then illuminates a deeper truth to be found in their midst, bringing readers to their own epiphany or revelation, through hers, as described in each "meditation."
A few of the meditations in the book have already won individual poetry awards, and Grace's previous books have all received national and international awards.
Available now from Mani Press, 200 pages. The author is currently on a multi-city book tour. The next stop is Namaste Bookshop in New York City, December 14, 2:30 p.m. More information is available at: http://www.likeswans.com and on the book's dedicated Facebook page.
About Nicole Grace:
Nicole Grace is a teacher, Buddhist mystic and author of the award-winning books, Dreaming Bhutan: Journey in the Land of the Thunder Dragon; Bodhisattva: How To Be Free, Teachings To Guide You Home; and Mastery At Work: 18 Keys For Achieving Success, Fulfillment And Joy In Any Profession. Her books, talks and recordings continue to inspire thousands of seekers around the world.
Known to many by her spiritual name, Kundalini, she teaches a modern approach to spirituality and work, with uncommon wisdom, humor and warmth.
For more information, visit http://www.likeswans.com.
Media Contact: Press office, Like Swans
Phone: 800-384-8815, Email: info(at)likeswans(dot)com