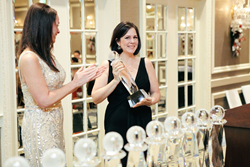 "It was extraordinary to have so many pioneers of holistic medicine and compassionate healing in the same room together. When I looked at who was gathered and their depth of knowledge, I saw the future of medicine for humanity." -Mike Adams, Natural News
Nashville, TN (PRWEB) December 10, 2015
On Thursday December 3, 2015, The Truth About Cancer ("TTAC") held its second annual charitable donation gala and inaugural Lifetime Achievement Awards ceremony at the Gaylord Opryland Resort in Nashville, Tennessee.
The charity event gala was attended by notable and pioneering researchers, doctors, scientists, and crusaders in the field of alternative medicine, cancer treatments, cures, and prevention methods.
"It's our mission to bring real evidence backed cancer treatments and cures, to all those suffering from the many forms of this terrible disease. We want everyone who's been touched by the devastation that cancer causes to know that there is real hope and there are real alternatives to the standard treatments that often consist of harmful drugs, surgeries, radiation,
and chemotherapy," said TTAC co-founder Ty Bollinger.
In October, TTAC launched its third documentary series, The Truth About Cancer: A Global Quest. Bollinger and his team interviewed over 131 doctors, scientists, and survivors from 27 countries to reveal real breakthroughs, therapies, and treatments to eradicate and cure the cancer pandemic. The 9 part docu-series was released online for free to the public and currently has over 5 million views on YouTube.
Since TTAC was founded less than 22 months ago, it has become a leading resource for those seeking to heal and treat cancer. The website: http://www.thetruthaboutcancer.com had over 4.7 million visitors since its launch on May 20, 2014.
Last year TTAC donated over $60,000 to charities and made a goal and commitment to triple that in 2015. Not only did they reach that goal, they exceeded it by donating almost $200,000 to numerous charities such as The Independent Cancer Research Foundation (ICRF), The American Anti-Cancer Institute (AACI), Healing Strong, and Cancer Crackdown. The second annual charity event and premiere Lifetime Achievement Award ceremony honored 11 of these expert pioneers that have worked tirelessly in the field of alternative medicine,cancer treatment, real cancer cures, and cancer prevention.
The inaugural Lifetime Achievement Awards was created to generate awareness and recognize leaders in medicine and health that are often overlooked by the conventional health care system. These experts and doctors are featured in the latest 9-part global docu-series, The "Truth About Cancer: A Global Quest" which contains interviews with 131 of the world's leading physicians, scientists, and researchers that are successfully using innovative life-saving technologies and practices.
In addition TheTruthAboutCancer.com exposes the "history and the business of cancer," which patients to continue outdated and overpriced toxic treatments – profitable to the pharmaceutical industry. Its ultimate goal is to eradicate the global cancer pandemic, by providing free knowledge to those searching for cures, with the primary mission being education and awareness on cancer prevention and alternative cancer treatments.
For more information about "The Truth About Cancer: A Global Quest," please visit: http://www.thetruthaboutcancer.com and follow them on Facebook: http://www.facebook.com/thetruthaboutcancer and Twitter @truthaboutbigc.