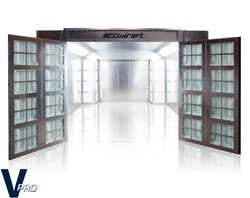 With this impressive new product, Accudraft shows what years of experience and attention to detail can do.
Randolph, NJ (PRWEB) May 18, 2015
Backed by more than 35 years of excellence, Accudraft may have outdone itself with its latest product release: the VentusPRO. The company has specialized in finishing systems for automotive, industrial, aeronautic and even marine applications and has a well-earned reputation for quality and service. They've put their outstanding designers to work creating a durable, efficient, and effective system for automotive finishing that creates the perfect workspace for painting, sanding, or welding –any work that requires excellent ventilation and containment.
The V-Pro system is a self-contained, cross-draft paint booth. It's beautifully engineered and precision-manufactured for efficient assembly and reliability. The standard features include all of the components for lighting and filtering, as well as a powerful 30-inch, high-efficiency fan and rugged 18-guage steel construction. The V-Pro is built to last.
Contaminants and overspray are beautifully controlled in the V-Pro. Air is prefiltered through the front doors, then drawn back along the vehicle being finished and out through filters in the rear doors. Exhaust is vented outdoors. Optionally, pillars on either side of both the front and back doors can handle filtration. Both versions provide highly effect environmental control. This pristine environment is ideal, both as a workspace and in terms of the finished product.
Personnel will appreciate V-Pro features like a separate access door with wire-reinforced glass and access to lighting controls from both inside and outside of the booth. Twelve fixtures provide lighting: 6 upper-angle lights and 6 along the walls. The standard booth measures 24 by 13 feet and is 9 feet high. Its size provides the ideal combination of efficiency and space.
"With this impressive new product, Accudraft shows what years of experience and attention to detail can do," says Guido Pippa, VP at Accudraft. "This is a top-quality system that will enable skilled automotive finishers to produce top-quality, factory-level results, and it's backed up by Accudraft's attentive customer service."
Accudraft's design and manufacturing facilities in New Jersey and Italy are state-of-the-art, and they utilize computer-controlled machinery that allows parts to built to a high level of precision that ensures excellent performance. Their products enjoy an excellent – and well deserved- reputation in the industry, and the VentusPro is a great addition to their product line.
To learn more, visit http://www.accudraftpaintbooths.com or contact the team at 800-524-0340 today.