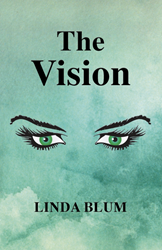 Through dinner dates, sultry dance routines, stakeouts and a whole lot of psychic visions the women find out that playing detective isn't what it's cut out to be.
Kitchener, Ontario (PRWEB) June 20, 2015
Linda Blum grew up in a psychic family. Her uncle was psychic and used to participate in fairs and had his own call in psychic talk show on television. She's even had her own experiences that she jokingly says since no one would believe her she decided to write her experiences in a fiction book.
The Vision, a debut novel, is about a fifteen year murder case that went cold. Now fifteen years later a woman is having psychic dreams of the murderer. The only catch is the only discernible feature of the murderer is a pair of green eyes. The woman is warned to leave it alone or she will regret it. The main character and her friend decide to take on the investigation into her mother's death after the police turn her down. The ladies bumble through trying to catch the bad guys, little do they know someone is watching over them. Through dinner dates, sultry dance routines, stakeouts and a whole lot of psychic visions the women find out that playing detective isn't what it's cut out to be.
The book is a page turner and hard to put down with a major twist at the end when the murderer is finally revealed.
Readers will enjoy trying to figure out who done it along with the characters.
The Record review says, "Linda Blum has produced an amusing story, a screwball mystery of sorts...". Linda has also been on local television, radio and her books are in local libraries.
The Vision is a novel available at Volumes Direct.com, in e-book format at eBookIt.com and various other book retailers. Linda has also written a second novel M.O.E. also available at Volumes and eBookit.com and other book retailers. For preview of The Vision and M.O.E., to watch television interviews, and see the book reviews go to Linda's website.
About the Author
Her home is Kitchener, Ontario Canada where she has lived for most of her life except for the eight months she lived on Vancouver Island. For anyone who knows of or has visited the historical Joseph Schneider Haus in Kitchener she is a relative of Joseph Schneider seventh generation.
She has very supportive brothers and a sister who, when her mom died, acted like her mom and dad and still do. She is thankful as she wouldn't know how to have gotten through that terrible time without them. She also has a terrific mother and father-in-law who have helped out through the years. Then there is her wonderful husband and son who are kind, caring and supportive and she wouldn't know what to do without them either. She can't forget her dog who is a beautiful girl that is loving, goofy and has an attitude too.
Her interests range from spending time with her son and husband when he isn't working, walking her dog, writing, reading, and watching soaps, yes she a soap watcher.
Linda is currently writing three...yes, three books.
About eBookIt.com
Since 2010, eBookIt.com (based in Sudbury, Massachusetts) has helped thousands of authors and publishers get their books converted to ebook format, and distributed to all the major ebook retailers, including Amazon.com, Barnesandnoble.com, Apple iBookstore, Kobo, Sony Readerstore, Ingram Digital, and Google eBookstore.