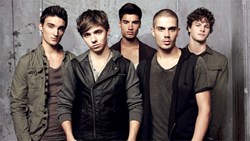 (PRWEB) October 29, 2013
UK group The Wanted has announced tour dates for their worldwide 2014 tour, in support of their third studio album, "Word of Mouth." The album is set to release November 3rd. The Wanted are currently wrapping up a US tour. Their upcoming tour will take them to Germany, through Europe, the United Kingdom, and back to the United States.
The Wanted saw a rise in popularity in 2012 in the United States and Canada with their hit single "Glad You Came." The single sold 3 million copies in the US and reached number 3 on the Billboard Hot 100. Follow-up singles "Chasing the Sun" and "I Found You" reached top spots on the Billboard Hot Dance Club Singles chart.
The Wanted tour dates for 2014 are listed below:
North American dates:
8th April 2014 - The Paramount - Huntington, NY
9th April 2014 - The Fillmore - Silver Spring, MD
12th April 2014 - Tower Theatre - Upper Darby, PA
14th April 2014 - House Of Blues - Boston, MA
15th April 2014 - Metropolis - Montreal Canada
17th April 2014 - The Sound Academy - Toronto Canada
21st April 2014 - Sky Way Theatre - Minneapolis, MN
23rd April 2014 - Ogden Theatre - Denver, CO
25th April 2014 - Orpheum - Vancouver Canada
26th April 2014 - Showbox Sodo - Seattle, WA
28th April 2014 - Warfield Theatre - San Francisco, CA
4th May 2014 - House Of Blues - Dallas, TX
5th May 2014 - House Of Blues - Houston, TX
7th May 2014 - The Tabernacle - Atlanta, GA
9th May 2014 - Fillmore - Miami Beach, FL
10th May 2014 - Universal Studios - Orlando, FL
11th May 2014 - Jannus Landing - St Petersburg FL
14th May 2014 - The LC Pavilion - Columbus, OH
15th May 2014 - Egyptian Room Old National Centre - Indianapolis, IN
16th May 2014 - Uptown Theatre - Kansas City, MO
17th May 2014 - Shawnee Exposition Center - Shawnee OK
The Wanted tickets for the "Word of Mouth" tour are on sale now. Fans can save on all North American tour dates when they shop at SuperStarTickets.com. SuperStarTickets is offering exclusive savings through the end of November; use the code THEWANTED for 7% off.