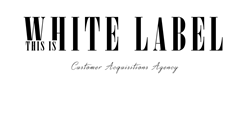 Many businesses are choosing to outsource their marketing to firms such as The White Label Firm.
(PRWEB) July 08, 2016
The White Label Firm is an outsourced sales and marketing agency based in Jersey City, New Jersey. The firm are specialists in personalized marketing and work on behalf of a number of clients in order to create unique face-to-face campaigns. Each campaign is designed and implemented based on extensive market research of the ideal consumer. The White Label Firm believes that a one-to-one connection with consumers is what helps them to increase their clients' customer acquisition, brand awareness and brand loyalty.
About The White Label Firm: http://www.thewhitelabelfirm.com/about-us-3/
With more traditional forms of marketing such as television advertising and radio marketing becoming increasingly expensive, many businesses are choosing to outsource their marketing to firms such as The White Label Firm. The White Label Firm believes that clients specifically choose them to outsource to because of their personalized marketing approach, which is something consumers have revealed they enjoy and are more likely to recommend.
Due to the nature of their services, The White Label Firm has recently acquired three exciting new clients and has begun working on a number of fresh-faced, unique and dynamic marketing campaigns for these clients. The firm works closely with their clients to conduct extensive market research in order to determine their ideal consumer profile so that they can specifically aim their campaigns towards these consumers. This means they have a much higher success rate than marketing campaigns which have a broader audience.
The White Label Firm chose to specialize in personalized marketing because they feel that each campaign - and ultimately each connection - with a consumer is unique. The firm highlights how consumers crave this personal touch in a world where automated systems are taking over and outlines how this drums up customer loyalty and plenty of repeat custom for their clients' brands.
The White Label Firm has revealed their excitement at working with their three new clients. They have outlined that they are particularly excited about one of their new campaigns as it has a unique social twist designed to help low income Americans by handing out free phones. The firm believes that this is a truly brilliant idea and states how they identify with this campaign as some of their core values include giving everybody a fair opportunity, no matter what background they come from.