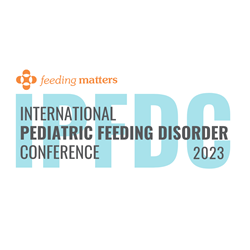 "With a focus on collaboration, this conference grants access to the latest research on PFD and can connect attendees with a community of diverse disciplines and families all working together to improve health outcomes for children," said Jaclyn Pederson, chief executive officer of Feeding Matters.
PHOENIX (PRWEB) March 16, 2023
Arizona-based nonprofit Feeding Matters, the first organization in the world dedicated to advancing the system of care for pediatric feeding disorder (PFD) is proud to host the upcoming 10th annual International Pediatric Feeding Disorder Conference (IPFDC). The IPFDC 2023 will be streamed live April 13-14, 2023, with pre-conference events on April 12, and will offer the most diverse group of speakers and lightning talk authors to date. All sessions will be available on-demand through May 31, 2023.
The two-day conference is the largest of its kind and is accredited by the Accreditation Council for Continuing Medical Education(ACCME), American Occupational Therapy Association (AOTA), Early Illinois Intervention(EI) and American Speech-Language-Hearing Association(ASHA).
Feeding Matters recognizes the importance of a collaborative care model and invites all healthcare disciplines to attend the IPFDC. When providers of various backgrounds work together, patients benefit. Every healthcare professional will receive a certificate with CE hours along with a program syllabus that can be submitted to their respective association. The event is presented by Reckitt/Mead Johnson Nutrition.
Since 2008, the IPFDC has been a leader in providing evidence-based education for the evaluation and treatment of children with PFD featuring intermediate and advanced-level sessions formatted into lightning talks, breakout sessions, and keynote presentations. This year's conference will bring together a lineup of the pediatric feeding community's foremost experts, leaders, and contributors.
The IPFDC is also designed with the family attendee in mind and helps pave the way for widespread awareness to reach families on a feeding journey. In an effort to continue focusing on the crucial dynamics that occur in the everyday lives of the families on a PFD journey, this year's keynote address Healing Feeding Trauma: It takes a village, from Dr. Anka Roberto DNP, MSN-MPH, APRN, PMHNP-BC, will bring focus to how critical it is to heal feeding trauma not only for the child but for the entire family. Dr. Roberto, by her own admission, is a mother first and all other aspects of her life and career have been largely impacted by her experiences in parenthood. She is mom to now 16-year-old Maya who was born with congenital heart defects and had four open heart surgeries by the age of four. Maya's congenital heart defects during childhood made feeding a challenge and inspired Dr. Roberto's work for many reasons. Further informing Dr. Roberto's work in the psychiatric field, their family and community survived the Sandy Hook Elementary school shooting in 2012. The level of grief, loss, and trauma the family unit experienced from that horrific event has had a long-reaching impact, a familiar feeling she noted to be similar to her experiences during Maya's open-heart surgeries. Different, but similar in the same breath. So, when Dr. Roberto takes the stage to share on the neurobiological impact of medical trauma on children and their families, she will be speaking from an informed and educated personal and professional level. Her presentation will offer practical strategies to help children and families heal from their own trauma, while empowering families to find ways to help their children and family members navigate the impact of the traumas impacted by feeding disorders.
Dr. Roberto is a nationally board-certified Psychiatric Mental Health Nurse Practitioner (PMHNP), and certified Eye Movement Desensitization (EMDR) APRN provider. Dr. Roberto is also an Assistant Professor at the University of North Carolina Wilmington where she teaches and leads future PMHNP's in the doctoral program. She has also authored book chapters and numerous publications on trauma and resilience. With over 20 years of experience as an RN working with children with special needs, she was humbled to be able to return to school to receive her doctoral degree in nursing practice as a PMHNP from Fairfield University in Connecticut in 2016 to help those impacted by trauma. She currently has her own private practice, Holistic Healing, PLLC where she helps children, families, and adults alike target and reprocess negative life experiences.
With the family engagement experience in mind, there will be reduced cost ($35) and pre-conference options specifically designed for families impacted by PFD. Families are encouraged to visit: Conference Pricing to learn more.
Visit this link to learn more about all of this year's internationally renowned presenters. You may also view their biographies and disclosures here. To register for the conference and learn more about pre-conference events with an opportunity to receive continuing education visit: 10th International PFD Conference.
"With a focus on connection and collaboration, this conference is not one that should be missed. Within two days, you gain access to the latest research on PFD and can connect with a community of diverse disciplines and families all working together to improve health outcomes for children," said Jaclyn Pederson, chief executive officer of Feeding Matters. "In addition, this year's keynote will address a critical but often overlooked component of the PFD journey which is the medical trauma that occurs in the lives of families and care providers. Dr. Roberto's inspired work on neutralizing these traumatic experiences offers something for every type of attendee," Pederson concluded.
To secure your registration or see the complete schedule with session descriptions for the year's most prolific and informative pediatric feeding conference, visit International Pediatric Feeding Disorder Conference.
About Feeding Matters
For kids with pediatric feeding disorder (PFD), every bite of food can be painful, scary, or simply impossible to swallow, potentially impeding nutrition, development, growth, and overall well-being. Yet, there is no functional system of care for PFD locally, nationally, or internationally. That's why Feeding Matters is dedicated to creating a world where children with pediatric feeding disorder will thrive. Established in 2006, Feeding Matters is the first organization in the world uniting the concerns of families with the field's leading advocates, experts, and allied healthcare professionals to ignite unprecedented change to the system of care through advocacy, education, support, and research – including a stand-alone diagnosis, the International Pediatric Feeding Disorder Conference, and the Infant and Child Feeding Questionnaire. To learn more about pediatric feeding disorder, visit feedingmatters.org or follow us on Facebook, Instagram and YouTube at @FeedingMatters.
Media Contacts:
Stephanie Sanstead
Public Relations
stephanie@communicadenceco.com
602.476.9997
Jaclyn Pederson, MHI
Chief Executive Officer
Feeding Matters
jpederson@feedingmatters.org
602.690.6680
###