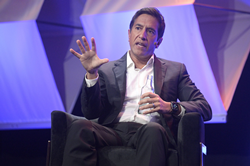 "Since its inception 11 years ago, Lake Nona Impact Forum's North Star is to inspire human potential through health and wellbeing innovation," said Impact Forum Founder Gloria Caulfield. "Our long-term goal is to be an incubator that accelerates innovation and sparks global change."
ORLANDO, Fla. (PRWEB) February 01, 2023
Founded to address global issues and make an impact on health innovation, the annual Lake Nona Impact Forum will unite the foremost global thought leaders in health, wellbeing, technology and business from March 8–10, 2023. The event will feature in-depth, collaborative discussions about health innovation in the new reality. With a list of notable thought leaders from across the health spectrum including Dr. Chelsea Clinton, Dr. Rachel Levine, Paul Stamets and Dr. Sanjay Gupta, the invite-only event is hosted annually in the visionary community of Lake Nona located in Orlando. A mecca for health and wellbeing innovation, Lake Nona is home to some of the nation's top universities, hospitals and research institutions where internationally acclaimed healthcare experts have launched businesses and pioneered first-of-its-kind advancements in their fields.
During a time in which the $4.4 trillion health and wellness industry continues to prove its importance in everyday life, heightened by exponential innovation during and following the COVID-19 pandemic, the Lake Nona Impact Forum brings together hundreds of diverse leaders and experts committed to improving human health on a global scale with a mission of developing and discussing long-term strategies that will catalyze the industry worldwide.
Coinciding with and celebrating International Women's Day (March 8), prolific leaders will be speaking about equity for women in business and featured prominently throughout the three-day event including CVS Health President and Chief Executive Officer Karen Lynch, who was recently named the most inspirational CEO on the Fortune 500 list; Harvard T.H. Chan School of Public Health Assistant Professor of Immunology and Infectious Disease Dr. Kizzmekia Corbett, whose NIH team co-designed the leading COVID-19 vaccine mRNA-1273; Academy Award winning actor Geena Davis; and Organamet Bio CEO Doris Taylor, among others.
Throughout the event, the Impact Forum will host some of the world's most creative thinkers to engage in uncommon conversations for extraordinary times including a dynamic mix of government and policy leaders, physicians and healthcare pioneers, prolific academics, technology visionaries from Fortune 50 companies to the world's most promising start-ups, professional athletes and entertainers, CEOs and C-Suite executives and more.
This year's program will feature discussions on topics hugely relevant to today's industry leaders, including climate change and public health, brain health, health equity for children and women, cancer prevention, food as medicine and more.
Among the dozens of conversations taking place throughout the event, a few of the key panel discussions will include:

Remarkable Women Leading Global Change: Championing female leaders responsible for breakthroughs in their industries, the panel features Dr. Chelsea Clinton, Vice Chair, Clinton Foundation and Vice Chair, Clinton Health Access Initiative; Lauren Bush Lauren, Founder and Chief Brand Officer, FEED; and Noor Sweid, Managing Partner, Global Ventures; moderated by Alyson Shontell, Editor-in-Chief and CCO, Fortune Media.
The Repercussions of Healthcare on Climate Change: Setting national policy and global standards around the decarbonization of healthcare will be discussed by Dr. Victor Dzau, President, National Academy of Medicine; Dr. Rachel Levine, Admiral, U.S. Public Health Service, Assistant Secretary for Health, U.S. Department of Health and Human Services; George Barrett, Founder, The Overtone Group; and Dr. Jonathan Perlin, President and CEO, The Joint Commission; moderated by returning speaker Juju Chang, Emmy® Award-winning Co-Anchor, ABC News' "Nightline."
Psychedelics: The Trip of Our Lifetime: From the world's foremost researchers on psychedelic medicine, promising findings on profound mental health conditions in this category will be shared by Dr. Rick Doblin, Founder and Executive Director, MAPS – Multidisciplinary Association for Psychedelic Studies; Dr. Rachel Yehuda, Director, Center for Psychedelic Psychotherapy and Trauma Research, Icahn School of Medicine at Mount Sinai; Dr. Robin Carhart-Harris, Ralph Metzner Distinguished Professor, Neurology and Psychiatry and Director, Psychedelics Division, Neuroscape, The University of California San Francisco; Paul Stamets, Mycologist, Inventor, Author, Entrepreneur, Earthling; and returning speaker Dr. Deepak Chopra, Co-Founder, The Chopra Foundation; Chairman, Chopra Global.
Fittingly, Lake Nona Impact Forum takes place within the living lab of Lake Nona where the latest technologies and innovative solutions are tested in a real-world environment every day. Purposefully planned to support healthy living, Lake Nona epitomizes an ecosystem of wellbeing with a medically-integrated sports and performance center, vibrant public art program, robust events calendar and miles of trails and dozens of parks anchored by a preeminent health and life sciences cluster. Thanks to the Impact Forum and the community's unique focus on health, Lake Nona has attracted some of the world's leading health and life sciences companies including Johnson & Johnson, Fountain Life, Chopra Global and Chopra Foundation, Limitless Minds, Hughston Clinic, HCA Healthcare, GuideWell Innovation, the University of Central Florida, the U.S. Department of Veterans Affairs and more.
"Since its inception 11 years ago, Lake Nona Impact Forum's North Star is to inspire human potential through health and wellbeing innovation," said Lake Nona Impact Forum Founder Gloria Caulfield. "As the meaning of wellbeing has evolved so have the discussions and luminaries we host, from the effects of the healthcare sector on climate change to the potential benefits of psychedelic therapy for mental health. Our long-term goal is to be an incubator that accelerates health and wellbeing innovation and sparks global change needed for public health, health systems and beyond."
Click here for more details on all 2023 Impact Forum speakers and panelists.
The 2023 Lake Nona Impact Forum is presented by KPMG. Additional event supporters include Verizon, Fortune, Worth, Akkad Holdings, Chopra Foundation, GuideWell Innovation, AdventHealth, Citibank, Edyth Bush Charitable Foundation, Fountain Life, HCA Healthcare, Hughston Clinic, Integrated Wellness Partners, Leviton, Maximus, Microsoft, Garcia Stromberg, Myndstream, Labcorp and the Harvard T.H. Chan School of Public Health.
To learn more about the Impact Forum, visit http://www.LakeNonaImpactForum.org. Follow along with the Impact Forum on LinkedIn, Twitter and Instagram. You can also join the conversation online using the hashtag #LNIF23.
###
About Lake Nona Impact Forum:
For the past decade, Lake Nona has hosted a bespoke event, convening extraordinary health and innovation leaders at the annual Lake Nona Impact Forum. The Impact Forum has established a world class and intimate environment where C-Suite executives, prolific entrepreneurs, technology mavericks, health system/health plan CEOs, investors, and wellness experts can have stimulating, important conversations. The Impact Forum content is curated by a National Advisory Board comprised of world-renowned thought leaders from business, academia, government, the arts and industry who are heading the search for creative, innovative health and wellness solutions. This private health innovation retreat is reserved for 400 hand-selected delegates who can contribute, inspire and make changes to health.
For more information, visit http://www.LakeNonaImpactForum.org.
About Lake Nona:
Planned and developed by the Tavistock Group, Lake Nona is one of the fastest growing and most innovative communities in America. Located in Orlando, Florida, the 17-square-mile community has established a new standard of living for its residents with groundbreaking initiatives around technology, mobility, and wellbeing. Lake Nona is located contiguous to Orlando International Airport in the most visited destination in the U.S. The smart and connected community's advanced infrastructure and commitment to collaboration has drawn visionary companies and entrepreneurs from across the globe to join its living lab environment accelerating economic growth and opportunity across health and life sciences, education, hospitality, and sports and performance. Lake Nona's attractive business ecosystem is enhanced by a thriving cultural landscape defined by iconic architecture and engaging public art installations, miles of trails and walkable green spaces, weekly signature events, shopping, dining and entertainment options set amongst Central Florida's beautiful natural landscape and year-round sunshine.
For more information, visit http://www.lakenona.com.