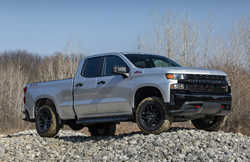 NASHVILLE, Tenn. (PRWEB) July 19, 2019
Automotive shoppers in Nashville who are looking for a high-quality full-size light-duty pickup truck will be very pleased with the 2020 Chevrolet Silverado 1500, which will arrive at Carl Black Chevrolet Nashville in Fall 2019. The 2020 Silverado 1500 delivers on many fronts, with its high-strength and durable body, robust engine options, off-road capabilities and high towing and payload capacities.
While the design of the 2020 Silverado 1500 is unchanged from the previous model-year, its performance upgrades and new features make it an even more attractive choice. Chevrolet expanded the robust 6.2L V8 engine to more than half of the models in the Silverado 1500 trim lineup. Mated to a new 10-speed automatic transmission, it doles out an impressive 420 horsepower and 460 pound-feet of torque. For even more power, Silverado 1500 buyers can get the Performance Upgrade Package. With a cat-back performance exhaust system and a performance air intake, the output of the 6.2L V8 engine is raised to a mighty 435 horsepower and 469 pound-feet of torque.
The 2020 Silverado 1500 is a towing beast. When properly equipped, the Silverado 1500 can tow up to 13,400 pounds. Towing is aided by new towing technologies. This includes 15 unique camera views and a transparent trailer feature with a tailgate-mounted camera and a camera on the back of the trailer. Also, the Silverado 1500 offers smart trailer technologies that can be accessed via the myChevrolet mobile app. Additionally, the Silverado 1500 can also haul a heavy load in the pickup bed, with a maximum payload capacity of 2,543 pounds.
For more information about the 2020 Silverado 1500 and other Chevrolet models at Carl Black Chevrolet Nashville, automotive shoppers can visit the dealership's website at http://www.carlblackchevy.com, call (615) 265-6088 or visit in person at 535 Murfreesboro Pike in Nashville.