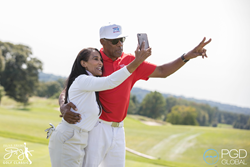 Golfers will experience the "Erving On-Course Museum" where each hole will showcase a moment from the legendary life of Julius "Dr. J" Erving.
PHILADELPHIA (PRWEB) August 30, 2018
Hall of Fame Basketball forward and icon Julius 'Dr. J' Erving, will host the 4th Annual Julius Erving Golf Classic on Sept. 8-10, at the Logan Philadelphia, a stylish hotel in the heart of Philadelphia, PA. The three-day event presented by Delta Air Lines and Jefferson will welcome legends, celebrities, participants and sponsors for a one-of-a-kind weekend of lifestyle, sports and entertainment.
Hosted by ESPN's Jay Harris and Professional Golfer and Fashion Designer Seema Sadekar, The Erving Classic will commence on September 8, with the Erving Youth Basketball Clinic at the state of the art Sixers Training Complex, currently the largest training complex in the NBA. The clinic will host youth participants from the Salvation Army of Greater Philadelphia and Camden New Jersey facilities.
On September 9, Joan Shepp will host an invitation only fashion experience, followed by the highly anticipated Erving "Black Tie" Ball, Red Carpet and Pairings Party with specialty cocktails presented by Tanqueray No. TEN and CIROC. The highly anticipated event will feature a musical performance by R&B singer and legend Johnny Gill. Lt. Col Stephen Banfield, Divisional Commander, Eastern Pennsylvania & Delaware Division of the Salvation Army will be a guest speaker at the event that will proudly welcome all in attendance to another unforgettable experience.
On the final day, September 10, all golf participants will head to St. David's Golf Club to tee-it-up in the Official Julius Erving Golf Classic Tournament. Golfers will experience the "Erving On-Course Museum" where each hole will showcase a moment from the legendary life of Julius "Dr. J" Erving. While participants are enjoying the course, ladies will enjoy a Bollywood-themed Experience with Dorys Erving, wife of Mr. Julius Erving, and join the golf participants in the clubhouse after the round.
Confirmed to attend are former NBA and WNBA stars Allen Iverson, Charles Barkley, Alonzo Mourning, John Starks, Reggie Theus, Mike Woodson, Jimmy Jackson, Gerald Henderson Sr., and Anne Meyers Drysdale, MLB and Hall of Fame legend Ozzie Smith, Boxer and Hall of Fame star Winky Wright, R&B legends Jeffrey Osborne, Johnny Gill and Eddie Levert, former NFL players Victor Green, Richard Dent, Mike Quick, Keith Byars, and Marcus Allen, soccer player Oguchi Onyewu, Hip Hop artist, Raje Shwari, former supermodel Beverly Johnson, comedian and actor, George Lopez.
***For all Media Inquiries, please contact Rachel Rees at Rachel(at)pgdglobal.com or 949.466.8938***
ABOUT THE JULIUS ERVING GOLF CLASSIC
The event, run by Play Golf Designs, Inc., celebrates the achievements of Julius "Dr.J" Erving in the city of Philadelphia with a portion of the proceeds benefitting the Salvation Army, a non-profit organization dedicated to bringing comfort, food, shelter and care to the needy around the world. The event also benefits Grab A Ball & Play, an organization that gifts athletic balls to children who are underprivileged, as well as DEFY, an organization that provides healthy meals and nutritional development to children who struggle with obesity. VIP Packages for the Julius Erving Golf Classic can be tailored to include golf, hospitality, and invitations to the private parties. For information on Erving tickets, packages and experiences call Play Golf Designs Inc. 310.926.4075 or email info(at)playgolfdesigns.com. For media inquiries: Olivia Gracey at olivia(at)cashmanandassociates.com.
ABOUT PGD GLOBAL
Play Golf Designs, Inc. (PGD Global) is a golf marketing & event company, directing and participating in luxury events for some of the world's most legendary athletes, brands, entertainers and organizations including Coach Mike Woodson, Julius Erving, Chris Tucker, Jeffrey Osborne, Viacom, The Broadcasters Foundation of America, The Calvin Peete Foundation, Diageo and MGM Resorts International. PGD blends pop culture and entertainment, creating the most unique, innovative golf events and experiences for each client. PGD Global focuses on celebrating diversity and inclusion in golf while welcoming women to the game with open arms. Specializing in connecting golf to the modern world of trends and fashion, PGD Global operates golf and lifestyle events and experiences all around the country, welcoming new golfers and businesses to the game. More info: http://pgdglobal.com.
ABOUT ST. DAVIDS GOLF CLUB
Founded in 1897, St. Davids is one of the premier clubs on Philadelphia's famed "Main Line". Highlighted by its challenging and unique golf course designed by one of the most famous architects of all-time, Donald Ross, the Club boasts an active and passionate membership. In addition to its renowned golf course, the St. Davids clubhouse plays host to exclusive events throughout each season. The mission of the Club has remained unaltered since its inception as a home for friends and family to enjoy life through the game of golf.
ABOUT JEFFERSON
Jefferson, located in the greater Philadelphia region and southern New Jersey, is reimagining health care and education to create unparalleled value. Jefferson is 30,000 people strong, dedicated to providing the highest-quality, compassionate clinical care for patients, preparing tomorrow's professional leaders for 21st century careers, and discovering new treatments to define the future of care. Jefferson (Philadelphia University + Thomas Jefferson University), home of Sidney Kimmel Medical College, dates back to 1824 and today is comprised of nine colleges and four schools offering 160 undergraduate and graduate programs to more than 7,800 students. Jefferson Health serves patients through millions of encounters each year at 14 hospitals and over 40 outpatient and urgent care locations throughout the region.
ABOUT LOGAN PHILADELPHIA
The Logan Hotel, a Curio by Hilton Hotel, The Logan is a social magnet, infused with a confident, contemporary, and artistic point of view. A special enclave for business and leisure travelers alike, nowhere else gets you as close to all the action in Philadelphia, or if you choose, providing all you need so you never need leave the hotel. As one of the most modern luxury hotels in Philadelphia, PA, The Logan continues that tradition by bringing its own unique viewpoint to the Philadelphia arts district. Local artwork fills the lobby and rooms, and our Logan Square hotel is conveniently located near several museums. The hotel, near Rittenhouse Square, is just steps from one of the most upscale shopping districts in the area. A vibrant hub, here lies Philadelphia's true heart and soul of the city, teeming with extraordinary people and unique experiences. For more information, visit their website at http://www.theloganhotel.com/
ABOUT TANQUERAY
TANQUERAY London Dry Gin is a dry, crisp, gin with a rich juniper flavor. Known for its iconic green bottle and red emblem, TANQUERAY London Dry Gin is the number one imported gin in the United States and is one of the world's most award-winning gins. TANQUERAY gin, TANQUERAY No. TEN gin, TANQUERAY RANGPUR gin and TANQUERAY STERLING vodka together create the renowned portfolio of TANQUERAY. Additional information about the TANQUERAY brand may be found at http://www.tanqueray.com. Enjoy the finest spirit responsibly. TANQUERAY Gin. 100% Grain Neutral Spirits. 47.3% Alc/Vol. Imported by Charles Tanqueray & Co., Norwalk, CT.
@ErvingClassic. http://www.juliuservinggolfclassic.com