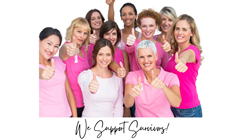 Room Makeover Competition for Breast Cancer Survivors, Enter for a Chance to Win a Virtual Home Staging Certification Course and a Virtual Interior Design Course
LOS ANGELES (PRWEB) October 25, 2022
The Academy of Home Staging & Design Supports Survivors.
The Academy is having a special contest, any one who is a breast cancer survivor or has breast cancer in their immediate family, and has a dream of being a home stager or designer is invited to enter the room makeover competition.
Take a before and After pictures or videos of a room done by the survivor, tell about the survivor in the video and post it on The Contest post on The Academy's social media.
Our Instructor and one of our founders, former HGTV/TLC Design Show Host Wanda Colón, along with our other instructors, will be picking a grand prize winner, who will win a free virtual hands on training certification course in Home staging and one virtual hands-on course in interior design .
2 Runner-up winners will be picked based on popular vote, they will win either a Virtual Home Staging Course or a Virtual Interior Design Course. Rules apply.