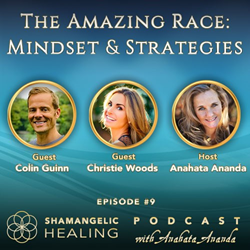 Sedona, AZ (PRWEB) May 18, 2019
Anahata Ananda, host of the Shamangelic Healing Podcast and founder of Shamangelic Healing in Sedona, Arizona, artfully draws out the focused strategies utilized by contestants Colin Guinn and Christie Woods, of The Amazing Race, Episode 31, in her latest podcast release. Episode 8 of her podcast investigates the different skill sets the second-time contestants are bringing to the plate, fifteen years later. "They (The Amazing Race producers), do a really beautiful job setting up an environment that tends to really reduce your resiliency, and if you're not doing the practices, if you're not staying super deliberate… you'll see the worst come out in people," shares Guinn after reflecting on his performance over a decade ago on the show.
Of the advantages Woods put into practice for the new competition, several were learned through Anahata's Goddess Empowerment Retreat and implemented by the team to keep the focus on supporting each other though this very challenging, world-wide race. Woods shares "The biggest thing for me was to breathe. Don't try to figure it out in the cortex, let's get beyond that thinking mind and get into the body." In slowing down and giving herself a chance to momentarily pause when needed, she said it allowed for her to bring in a broader perspective of the entire game and all the moving parts that come into play between herself and her partner as well as with the other contestants. The insight she gained was a feeling of compassion for her partner and her challengers. This emotion allowed her to strategize differently than she had done fifteen years ago. Collaboration was found to work best for her.
"If I can be feeling really good, it becomes much more likely that I get what I want," stated Guinn. Anahata questions how, in practical day to day existence, is that state of being achieved. He discusses what meditation has opened up for him. "Have a little time to yourself each day. What meditation does for me is brings it down to stillness for a few minutes to give me a little perspective. When the onslaught of things you can't control happens…it makes me a lot less susceptible to reaction." Anahata points out this can be done in as little as a few minutes throughout the day. She teaches meditation as one part of her Sedona Empowerment and Awakening Weekend in the fall and spring each year.
Both Guinn and Woods have attended Anahata's empowerment weekend and now have the shared tools to apply in their personal, professional and family lives. In the interview, Anahata acknowledges the transformation she has seen in the couple over several years and Woods attributes a life changing Shamangelic Breathwork Ceremony with Anahata, as a catalyst for the desire to learn more of what Shamangelic Healing offers. Breathwork refers to a deep cathartic release, through the use of simple breathing techniques, of unresolved emotions that are stored within the body of a person. Music, sound healing, aromatherapy and Shamanic healing tools are incorporated into the style of breathwork Anahata offers. Woods is a certified breathwork facilitator in Austin, Texas.
As life-long advocates of personal growth, Colin Guinn and Christie Woods finished second on season 5 of CBS's The Amazing Race in 2003, and can be seen in the most recent Reality Showdown season 31, competing against other well-known competitors from Survivor, Big Brother, and The Amazing Race. Colin is a serial entrepreneur, drone inventor and high tech product development expert while Christie is a sex, love & relationship coach specializing in breathwork, Reiki and Law of Attraction techniques.
Anahata Ananda blends the compassion and tenderness of an Angel and the wisdom and strength of a Shaman to guide profound journeys of core healing and spiritual awakening. As a Certified High-Performance Coach, Shamanic Healer and Soul Guide, Anahata has guided thousands of individuals across the globe through core life shifts, helping them to turn their life around and create the life of their dreams. She offers deep healing through in-person sessions in Sedona, Arizona and supportive online courses for self-paced, at home learning. https://shamangelichealing.com