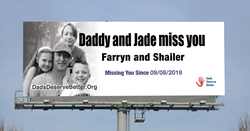 Scott Rogers, said we need community support from as many people we can to ensure the success of our movement and commitment to this challenge.
MONTGOMERY, Texas (PRWEB) July 05, 2019
Divorce is an ugly fault in today's society. Nonetheless it has become a cultural norm, with over fifty percent of marriages ending in divorce. With this high rate of divorce, custody battles and broken homes are a bi-product of lovers turmoil. Often times in today's court system it is assumed that the mother is always fit to be the better parent, which gives them full custody and weekend visits for dad. Even if the father is better fit to have sole custody, it is costly to fight an uphill legal battle where courts rarely rule in the fathers favor. This causes tremendous heartache to the hard working fathers that deserve the justice of equal rights.
In 2018 Scott Rogers was having lunch with an old friend Shailer and catching up on life. Scott was shocked to find out that his friend had divorced his wife and was having a horrible custody battle. Shailer had always been a very well put together man and had done very well for himself, but it turns out his wife was withholding his children from him and not budging an inch
This wasn't the first time Scott had heard of such injustice among custody battles. This subject had really been weighing on Scott's heart as it was and hearing Shailer's story was the final push Scott needed to make a stand for all dads that are going through or have gone through the current legal gauntlet struggling for equal rights. Scott has started movements before to help support different causes that needed an internet voice. Maybe you have heard of the Thin Blue Line Association? Scott has a passion for helping where it counts. With his large internet presence, he has been able to bring a large eye of awareness where it counts.
After hearing Shailer's story Scott decided it was time to take action and together they began crafting an awareness campaign. The company created was Dads Deserve Better, with the goal to place 100 billboards in 100 days across the country, showcasing deserving fathers expressing their love and how much they miss their children. The creator, Scott Rogers, wants to bring as much awareness to this campaign as he can through social media and news outlets across the US. The site is giving away T-shirts as a thank you for becoming a member and helping our mission to support deserving fathers. You can help the company reach its goal by going here. The company says it can reach that goal with only 25,000 new members. The funds raised through its efforts will help place these 100 billboards across the USA as well as help with various legal fees for deserving fathers in need. You can click here to support the cause and help with the movement and commitment of 100 Billboards in 100 Days!
Every child deserves to see their father more than four days a month. Dadsdeservebetter.org believe it is an injustice that our culture & society's opinion is "the mother is always right", but out legal system in most places across our great country runs on the same notion. Mother knows best is stereotypical norm that should have been left in the 20th century. In today's society, gender shouldn't decide who's fit to raise a child and who's fit to only visit. 50/50 Custody should be the assumption unless one parent is proven to be unfit. Studies show that children flourish in 50/50 custody situations compared to the current 4 days a month standard. (https://www.focusonthefamily.com/socialissues/marriage/marriage/30-years-of-research). The current system is antiquated, derived from the times when mothers didn't work and stayed home to care for the children. Today's times demand change and Dads Deserve Better is determined to shed light and bring these issues to the forefront of lawmakers.
About Dadsdeservebetter.org
Is a cause that is committed to bringing awareness to the forefront of lawmakers and courts. Additionally, helping with court costs, and attorney fees for fathers who have such needs in these unfortunate cases.
For more information visit http://www.dadsdeservebetter.org or call 833-732-8437