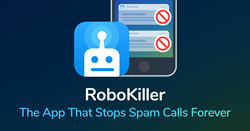 "Canadians are being inundated with robocalls every day, but RoboKiller is the app that lets you fight back," said Ethan Garr, RoboKiller's Vice President of Product, "Answerbots stop telemarketers' harassing intrusions, then turns the tables on the spammers so you can get your phone back."
SOUTH AMBOY, N.J. (PRWEB) March 18, 2019
RoboKiller, the call blocking app that gets revenge on spammers with Answerbots(™), is now available in Canada in the App Store and Google Play Store. Using audio-fingerprinting and machine learning, RoboKiller answers the calls it blocks with Answerbots, hilarious robots that talk back to spammers and waste their time.
"Canadians are being inundated with robocalls every day, but RoboKiller is the app that lets you fight back," said Ethan Garr, RoboKiller's Vice President of Product, "Answerbots stop telemarketers' harassing intrusions, then turns the tables on the spammers so you can get your phone back."
A breakout hit in the United States, RoboKiller has more than 157,000 ratings averaging 4.6 stars in the US App Store. The app is the winner of the United States Federal Trade Commission's Robocalls: Humanity Strikes Back Competition, and has been featured by multiple national broadcast and print news outlets in the United States.
"We estimate Canadians are receiving an intrusive and potentially dangerous average of 18 robocalls each month. It's your phone, you shouldn't be afraid to answer it," continued Garr, "RoboKiller lets you take back control so that you can trust that your ringing phone is a call you want to answer."
RoboKiller uses audio fingerprinting, machine learning, and user feedback to only block calls that you don't want to receive. It honors your contacts (but does not download them), and generates a dynamic block list to keep you continuously protected. The service also allows you to manually blacklist and whitelist numbers.
The app is offered with a 1-week free trial in the Google Play Store or Apple App Store. Consumers can choose a monthly or yearly subscription to follow the trial. More information is available at http://Robokiller.com.
Robokiller has recently been featured in:
ABC Good Morning America (https://abcnews.go.com/GMA/News/video/apps-stop-robocalls-60933489)
NBC Nightly News (https://www.nbcnews.com/nightly-news/video/inside-the-effort-to-stop-robocalls-1358549571610)
Fox Business Network (https://video.foxbusiness.com/v/5857843890001/#sp=show-clips)
Cover of Wall Street Journal (https://docs.google.com/document/d/e/2PACX-1vQ4l-qo-7yhzXDHagY6v3vvQaA6-U9xTNcU_acM5OlaTHUU22tTRv2CllQNSjrI7vG2_vFKWF9PGpv4/pub)