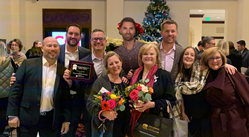 "This award truly is a team award," said Johnson. "Too many businesses focus only on production, dollars and cents. While our production is also something to be pleased with, I'm prouder of our consistent customer satisfaction and recognition as a great place to work."
SALT LAKE CITY (PRWEB) December 11, 2019
Primary Residential Mortgage, Inc. (PRMI) Mid-Atlantic Division was recognized as a Top Workplace in Baltimore for 2019 by The Baltimore Sun. This team is led by Division President, Dean Johnson (NMLS 45672).
"This award truly is a team award," said Johnson. "Too many businesses focus only on production, dollars and cents. While our production is also something to be pleased with, I'm prouder of our consistent customer satisfaction and recognition as a great place to work."
The Baltimore Sun surveys employees anonymously to gain an understanding of their opinion of their work places. These surveys are then reviewed and the highest-ranking companies are awarded the honor of being named a Top Workplace in Baltimore.
To get in touch with a member of the Mid-Atlantic Division of PRMI, contact Laura Nagel at (443) 384- 6975 or lnagel@primeres.com. You can also visit their office at 1220 A East Joppa Road, Suite 118 Towson, MD 21286.
About PRMI: Primary Residential Mortgage, Inc. (PRMI) is a nationwide, multibillion-dollar operation cofounded in 1998 by Dave Zitting, Jeff Zitting and Steve Chapman. Its top leaders are authorities in the mortgage industry. With over 240 branches licensed in 49 states and more than 1,800 employees, PRMI has been repeatedly recognized as a top mortgage lender and was recently inducted into the 2018 Ellie Mae Hall of Fame for Excellence in Compliance. For more information, call 800-255-2792, visit http://www.primaryresidentialmortgage.com, or follow us on LinkedIn, Twitter and Facebook. PRMI is an Equal Housing Lender. NMLS #3094.
Local Contact
Laura Nagel
(443) 384-6975
lnagel@primeres.com
Corporate Contact
Maddi Hardy
1.800.255.2792
mhardy@primeres.com