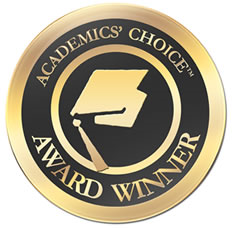 This acknowledgement from a leading education resource supports our mission of activating kids' imagination through audio.
APTOS, Calif. (PRWEB) December 08, 2020
Academics' Choice today congratulates all winners of the Fall 2020 Academics' Choice Awards, a prestigious seal of educational quality, reserved only for the best mind-building media and toys. The fall winners include teacher-approved, brain-boosting products from DuoLingo, LeapFrog, Tynker, SimplyFun, ExploreLearning, Numberella LLC, Orbital Velocity Games Inc., Ningbo Mideer Toys Co., Ltd., Otsimo, Dream A World Education, Inc., Tests.com, KinderLab Robotics, Inc., Trigger Memory Company, Oswaal Books, Pepi Play, IDZ Digital Private Limited, Think Tank Scholar, Will Parker, Rock by Rock, Pinna LLC, Lesson Planet, LogicLike, IXL Learning, and more! The full list of winners is posted online at http://www.academicschoice.com/2020.
The Academics' Choice Advisory Board consists of leading thinkers and graduates from Princeton, Harvard, George Washington University, and other reputable educational institutions. Product-appropriate volunteer reviewers, combined with the brainpower of the Board, determine the coveted winners. Entries are judged by category (i.e. mobile app, toy, book, website, magazine, etc.), subject area, and grade level, and evaluated based on standardized criteria rooted in constructivist learning theory.
"We are honored that our LeapStart Preschool Success and 100 Animals Book have been recognized as Brain Toys by Academics' Choice Awards. Their criteria of selecting products that offer robust educational value aligns with our commitment to offer engaging educational products that make learning fun." - Andy Keimach, President, VTech Electronics North America, LeapFrog's parent company
"Numberella is thrilled to receive the Academics' Choice Award. It's fantastic to know that the game has been tested by unbiased teachers and students, and given the thumbs up. We will wear the badge with pride." - Alexander F.L. Newberry, Founder of Numberella
"KinderLab Robotics is grateful and honored to be chosen for the Academics' Choice Brain Toy Award. Receiving this award, judged by educators and consumers, attests that our proven, research-backed educational robot, KIBO, is a 'mind-building' solution to start young children on their journey into coding in a screen-free, playful and creative way. Through coding they can develop lifelong STEAM skills and love of coding, as well as problem-solving, collaboration, and language proficiencies that will contribute to their success in future studies and careers. Thank you for this recognition of KIBO!" - Mitch Rosenberg, CEO of KinderLab Robotics
"Dream A World Education is honored to receive the prestigious Academics Choice award 2020 for Secrets of the Heart™ TV. Since 2008 we've delivered programs in schools, dedicated to improving the lives of our youngest children through arts-based social-emotional learning that emphasizes culture and diversity. Your recognition of our web-based programs, E-books and videos, which expand our work virtually, affirms our path forward as we help empower children everywhere to explore who they are, experience their connections with each other and learn how to turn their dreams into reality." - Bunny Hull, Founder, Dream A World Education
"We are thrilled and honored to be named a winner of the Fall 2020 Academics' Choice Smart Media Awards," said Maggie McGuire, CEO of Pinna. "This acknowledgement from a leading education resource supports our mission of activating kids' imagination through audio. From creating original content to partnering with esteemed brands and creative talent, we continue to inspire and motivate kids' of this generation through story-telling, music and more," McGuire continued. "With listeners in 140 countries, and counting, Pinna continues to create a seamless intersection of creativity and learning around the world."
"Student achievement is at the heart of our mission to teach kids and teens around the world how to code, so it's an honor to receive the Academics' Choice Award. We will continue to build our platform in order to develop the next generation of tech innovators and leaders." - Srinivas Mandyam, CTO, Tynker
Many of the products that are evaluated by the Academics' Choice Awards team are donated to a variety of worthy charities including the Kids In Need Foundation and the Toys for Tots Foundation.
About Academics' Choice:
Academics' Choice helps consumers find exceptional brain-boosting material. Academics' Choice is the only international awards program designed to bring increased recognition to publishers, manufacturers, independent authors and developers that aim to stimulate cognitive development. A volunteer panel of product-appropriate judges, including parents, educators, scientists, artists, doctors, nurses, librarians, students and children, evaluate submissions based on educational benefits such as higher-order thinking skills, character building, creative play, durability and originality. Only the genuine "mind-builders" are recognized with the coveted Academics' Choice Awards.
Press Contact
Stephanie Howard
Academics' Choice Awards
showard@academicschoice.com
888-392-6643