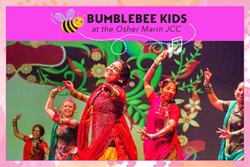 One of the most inspiring on the Bay Area Dance Floor – SF Bay Guardian
SAN RAFAEL, Calif. (PRWEB) April 03, 2019
A fun, engaging morning immersed in the culture of India, the dance, music, and stories of India burst in a cavalcade of color as Dholrhythm Dance Company lead the program with the beautiful costumes, teaching bhangra dance steps to the rhythm of the Dhol drums in the Hoytt Theater.
Come join in the fun as the family is whisked away to India without leaving San Rafael and learn more about this beautiful joyful dance and culture. Seating includes cozy couches and small round tables. There's plenty of room for wiggling as needed and dancing!
The morning begins at 11 a.m. with pre-show, hands-on arts activities to offer the opportunity to get creative and connect with friends. The show begins at 11:30 a.m., and lasts approximately one hour.
It's a lovely opportunity for families to come together for a friendly, interactive, incredibly fun, and inspiring morning of music and dance with friends and family.
WHAT: Fun, family-friendly, interactive dance, music, and stories with a Bollywood dance party, art activity, and snacks available for purchase.
TIMING: 10:30 a.m.: Will Call/Box Office
11 a.m.: Theater Doors Open / Hands-on Art Activities
11:30 a.m.: Show begins
FOOD/DRINK: Healthy snacks, Peet's Coffee, Numi Tea & Hot Cocoa available for purchase
SEATING: General Admission
TICKETS: $10 – More Info marinjcc.org/arts
PARKING: Ample FREE parking | The Osher Marin JCC is easily accessible - 1/2 mile E off 101
MORE: Recommended for children 4-8. Siblings welcome!