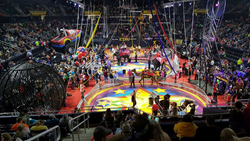 DUNCAN, Okla. (PRWEB) March 01, 2019
The Carden Circus is coming to Duncan, OK, the Heart of the Chisholm Trail, for one day only! There will be two different show times on March 7, 2019 at the Stephens County Fair & Expo Center in Duncan, OK. The first show will be at 4:00 PM and the second show will be at 6:30 PM.
For over 50 years the Carden family has been bringing an astonishing and awe-inspiring show to people across the country. From amazing feats of athleticism with their aerial acrobats, to their magnificent elephants, awesome tigers, and so much more for the entire family. The Carden International circus is committed 110% to the exceptional care and ethical treatment of all of their animals. The trainers & care-givers of their outstanding and beautiful animals work 365 days a year to love, nurture, and train the stars of the Carden Circus. The animal care professionals with Carden circus believe that a positive, healthy environment is the only acceptable and truly successful method of working with their animals. Their staff consists of animal experts who have devoted their lives to living, working with, and caring for these animals. They meet the animals' physical needs with food and regular veterinary attention; as well as their mental and emotional needs by providing a stimulating environment and companionship.
The Circus family is the most talented and hard-working group of people in the circus industry! The level of commitment to safety and all of the details of setting up the BIGGEST circus show in the country is no small feat. Their performers & aerialists invest innumerable hours every week perfecting their craft to be ready to give their audience a performance beyond their imagination!
You can purchase tickets at supershrinecircus.com. Don't forget to go early for all the pre-show activities that will entertain the entire family from elephant, camel, and horse rides, to fun inflatables and face paintings, there's something for all ages!