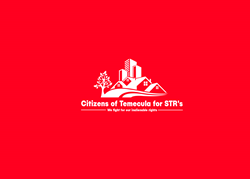 "Common Sense Regulations are necessary"
TEMECULA, Calif. (PRWEB) March 30, 2020
The Citizens of Temecula for STR's, a non-profit organization, has officially returned a punch after the City of Temecula threw the first blow. In January 2020, the City of Temecula, adopted Ordinance 2020-01 and approved the Amendment of Title 17 of the Temecula Municipal Code for Short-Term Rentals and Established Administrative Citation Fines for Illegal Short-Term Rentals within the city limits. Furthermore, the City of Temecula and its City Council Members, find that this Ordinance is exempt from the California Environmental Quality Act (CEQA) pursuant to CEQA guidelines Section 15061 (B)(3).
The Citizens of Temecula for STR's, are against the "blanket-ban" and in an effort to be heard retained the legal counsel of Daniel Wildish and Charles Smith of Bohm, Wildish & Matsen, LLP, Costa Mesa, CA to spearhead their battle.
The Citizens of Temecula for STR's, are fighting for the restoration of their alienable property rights. Jessica Abrego, President of The Citizens of Temecula for STR's, believes the new Ordinance violates the property owners "private property rights" and should be overturned. Regulations should be enforced and property owners must abide by them or forfeit their right to operate.
Alexandria de Rossi, suggests that the "blanket ban" does not present a successful analytic formulation of private property rights resulting in an explanation of the method of directing and coordinating uses of economic resources in a private property system (i.e., a capitalistic or "free-enterprise" system). "People must have secure, alienable private property rights. It is a lawful and dutiful act. We have individuals that rely on income derived from renting out a room or their entire home. Some are handicapped while others are retired Veterans and Single-Parents. Whatever their circumstance, no one should have the legal right to take away one's rights as a property owner."
The Citizens of Temecula for STR's is purposing regulations similar to that of Riverside County. In addition, they are suggesting the implementation of a Permit Process, Quiet Hours (9:45pm-7:00am), a Decibel Monitoring system (NoiseAware), Security Systems, a 3-Strike System, a 24-Hour Hotline, 12% TOT with 10% to the City of Temecula and 2% to the Temecula Valley Convention & Visitors Bureau and more. (See Media)
The Citizens of Temecula for STR's filed a Petition for Writ of Mandate and Complaint for Inverse Condemnation with the courts in Murrieta, (Southwest Justice Center) on March 18, 2020. The City of Temecula has officially been served via the law firm, Richards Watson Gershon in Los Angeles, CA.
About The Citizens of Temecula for STR's:
The Citizens of Temecula for STR's a non-profit exists to foster experiences that enhance the business, networking, learning and disciplines of the STR property owner. For more information, join Citizens of Temecula for STR's via their Facebook page.
**The Citizens of Temecula for STR's wishes to thank Black Tie Media for their contribution and for creating the attached video