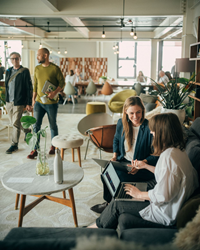 We're also excited to embrace a new community of partner members who will only further the conversations and connections within the Cloud Room on any given day."
SEATTLE (PRWEB) October 10, 2019
The Cloud Room officially announced today that it has joined Global Collective, an alliance of independent boutique workspace operators who share common values and a passion for thoughtful design, upscale amenities, and curated programming. In addition to the Seattle workspace, Cloud Room members now have complimentary access to any of the Global Collective spaces around the world. Partner spaces are available in New York, San Francisco, Paris, Mexico City, Paris, Antwerp and more.
"With so many of our members on the cutting edge of the industries in which their jobs reside, travel can be a big part of their professional life," said Liz Dunn, Cloud Room founder. "Just as they have come to view The Cloud Room as a place of collaboration, inspiration and productivity, this new partnership with Global Collective allows them to access similar environments while on the road. In turn, we're also excited to embrace a new community of partner members who will only further the conversations and connections within the Cloud Room on any given day."
As the coworking market grows and becomes ever more crowded, a distinct split is emerging between large-scale, corporate international chains and the more creative-minded boutique spaces that focus on innovative design, unique and personalized hospitality services and exclusive amenities. Global Collective has hand selected the space in each city that most exemplifies stunning design and comfort and extraordinary quality of service. As a result they have created a way for independent, upscale coworking spaces to connect with each other to offer travel benefits that go beyond those of the larger chains.
If you are interested in learning more about The Cloud Room and this program, please visit https://www.cloudroomseattle.com/global-collective
About the Cloud Room
In its lofty perch above Chophouse Row, located in the heart of Seattle's arts and music scene on Capitol Hill, the Cloud Room provides a warm and lushly appointed shared workspace and cultural venue. The Cloud Room is enriched by the diversity and entrepreneurial talent of its members, many of whom are drawn from Seattle's deep-rooted arts, music and media industries. In addition to fostering member businesses and entrepreneurs, the Cloud Room is proud to offer a curated event series with local thought leaders, community wellness partnerships, an exceptional bar program and a rooftop lounge overlooking the city.
About Global Collective
Global Collective is a global alliance of select workspace operators, who share common values and a passion for thoughtful design, upscale amenities, and curated programming. Through Global Collective, our members enjoy reciprocal access and benefits via our international network of premium workspaces.
Spaces include:
Canopy, San Francisco, CA
Blender Workspace, Manhattan, NY
The New Work Project, Brooklyn, NY
Fora, London, UK
The Bureau., Paris, FR
Publico, Mexico City, MX
Fosbury & Sons, Antwerp, BE
East Room, Toronto, CA
The Nest, Warsaw, PL
Cloud Room, Seattle, WA