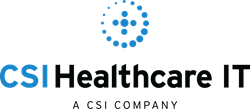 "We're thrilled to introduce CSI Healthcare IT's refreshed and modernized look," says Kate Mays, CSI Healthcare IT President. "Our new branding authenticates our commitment to innovating the specialty services we provide to our clients."
JACKSONVILLE, Fla. (PRWEB) April 09, 2019
The CSI Companies today introduced an updated branding of its healthcare IT staffing division, CSI Healthcare IT, with a new uniform logo and a bold blue brand color.
Established in 2009, CSI Healthcare IT specializes in providing information technology talent to health systems nationwide in specialties such as EMR/EHR application, training, go-live, information management, and vendor support. CSI Healthcare IT's new icon follows the characteristic circular theme of The CSI Companies' corporate logo. Mimicking the shape of a medical cross, the new icon represents the division's healthcare information technology focus. The new uniform two-tone brand color replaces its gradient predecessor, making way for a significantly bolder look.
CSI Healthcare IT is led by Kate Mays, the youngest president in The CSI Companies' more than 20-year history. She joined The CSI Companies in 2006. Prior to being promoted as president of the Healthcare IT division in 2017, Kate served as a sales director for the company's healthcare staffing clients and established relationships with national health systems during her tenure.
"We're thrilled to introduce CSI Healthcare IT's refreshed and modernized look," says Kate Mays, CSI Healthcare IT President. "Our new branding authenticates our commitment to innovating the specialty services we provide to our clients."
In 2018 and 2019, KLAS Research ranked CSI Healthcare IT as the Category Leader in Go-Live Support Services. KLAS is a leading healthcare information technology and data insights firm that gathers feedback from healthcare professionals and delivers reports on customer loyalty, product quality, and value of services provided.
To learn more about CSI Healthcare IT and its specialty recruiting services, visit TheCSICompanies.com/Healthcare-IT.
About CSI Healthcare IT
CSI Healthcare IT is a specialty division of The CSI Companies, and a part of Recruit Global Staffing, active in Asia, Europe, North America and Oceania. Recruit Global Staffing is a leading global HR service provider, part of Recruit Holdings Co., Ltd. Headquartered in Jacksonville, Fla., The CSI Companies provides national staffing solutions by placing top talent in the technology, financial, accounting, healthcare, and other professional industries across the country. To learn more about The CSI Companies, visit TheCSICompanies.com.