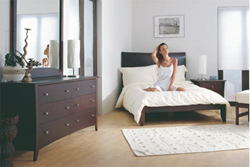 Celliant mattresses can balance temperature, which helps with recovery for athletic training and healing.
San Francisco, Ca (PRWEB) March 31, 2015
The Futon Shop, A San Francisco Organic Futon Mattress manufacturer and retailer for over 35 years has announced a new line of performance mattresses. Celliant has been added to three mattresses and has been proven through studies to enhance sleep. Everyone needs the best sleep possible and finally there is a product on the market that has been proven through scientific data that a person can go to sleep and improve the quality of their sleep, and reduce pain and soreness throughout their body. Also, Celliant mattresses can balance temperature, which helps with recovery for athletic training and healing.
Often a big complaint with insomnia patients is WASO, which is wake after onset sleep. Celliant mattresses reduce WASO, so it is a great product if one finds it difficult to stay asleep instead taking sleeping pills with possible side effects. There have been 8 clinical studies done that have proven that Celliant performance mattresses stimulate the healing process. Mineral used in Celliant fiber works through a thermo reactive process, working with the body's energy. Basically, Celliant fiber works with the body's natural body heat to convert it into infrared energy and then back into the body.
Celliant in mattresses have been found to improve one's sleep quality by using the body's energy to heal itself. The minerals used have been known to increase oxygen levels in the body and improve one's sleep quality. These Celliant Performance mattresses can help athletes heal faster and anyone that sleeps on a Celliant mattress wakes with more energy. Scientists in sports medicine, biology, and physics have all come together and agree that Celliant products have amazing effects on the body. When the body takes back it's natural energy, waking up can feel fresher and one often feels more energized and even can think clearer. The returned energy stimulates blood circulation and temperature regulation. This in effect can create a sense of comfort and can relax people. Biologically with Celliant mattresses, the body takes it's natural body heat and increases the efficiency of each cell in one's body, helping the body to recover quicker, decrease pain, and increases healing in all areas of the body.
The three new Celliant Mattresses are the Theta, Delta, and Alpha Performance Mattresses. The Theta Performance Mattress is a firm mattress, the Alpha performance mattress is medium firm and Delta performance mattress is soft.
About The Futon Shop:
The Futon Shop is a vertically integrated retailer that manufacturers over 33 organic and green mattresses from start to finish. The company dates back to 1976 led by Suzanne Diamond and her team of specialists dedicated to producing eco friendly furniture and bedding. Their mission is to produce the best eco-friendly/chemical-free Organic and Natural futons, organic futon mattresses, futon covers for sofa beds, futon frames, and platform bed frames that promote better healthy living and a good night's sleep for all.