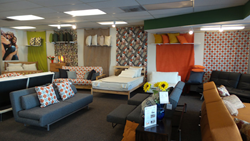 San Francisco, CA (PRWEB) February 26, 2015
The Futon Shop takes a moment to stop and celebrate 39 years of being in business and reveals their big Organic Futon Mattress Anniversary sale starting now and going through the 2nd of March.
What helped a natural futon mattress company grow from one little store to ten stores, and then stay in business in a market that is extremely competitive? In an ever changing and growing market, furniture designs and trends can often be here today and gone tomorrow. Suzanne Diamond, The Futon Shop's CEO, has found success with the flow of marketing futon mattresses that are organic through knowing precisely what customers are looking for in their homes. How does she do it? She relates to so many of her customers as a mom, wife, daughter, nana, artist, and woman. She is a mom who wants the best for her kids. She is a nana who has been educated about organic futon production and has become aware of all of the new-found research in furniture, foams, and fire retardants that can be harmful to vulnerable children in traditional couches and mattresses. She has mastered the skill of finding out what customers want by following what she likes. For example, when she picked the fabrics for her modern futon sofa bed line, she thought about what she would like to see in her own home. This process of picking products has been a great one and successful with customers.
Sleep is an important issue for everyone because we all need it to survive and be healthy. So, Suzanne Diamond picks quality materials and supervises the production of most mattresses as they are handmade everyday to ensure that all organic and chemical free mattresses are of the finest in quality to sleep on. She wants the futon mattresses she sends out to her ten stores and to all of her customers around the United States through shipping to be products she can be proud of.
Take advantage of this great sale - it is rare when mattresses are 50% and 60% off. Come celebrate with us and make futon history by purchasing a futon mattress from a company that has perfected how organic futons and mattresses are supposed to feel for almost 4 decades.