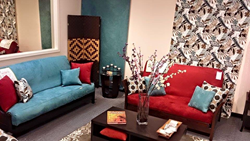 The Futon Shop has been making futon mattresses and chemical-free furniture since 1976 and is considered one of the pioneers in sustainable business throughout California.
San Francisco, ca (PRWEB) February 06, 2015
TheFutonShop.com, the national leader in organic and chemical-free futon mattresses, has released their Top Seller List for 2015.
After The Futon Shop reviewed all of its futon mattress sales from 2014, the organic manufacturer and retailer noticed a trend: that consumers are more akin to organic living, from the high result of chemical-free futon mattresses sold. The word "organic" was once used for food, but now, it is connected with home design, clothing, architecture, cleaning supplies and so much more. Environmental Protection Agency (EPA) and Facebook are two influential sites that have opened up the discussion and helped spread the organic message, helping to inform the public about organic living. There is a higher supply and demand in regards to trending topics such as organic living, chemical-free choices, and sustainable practices. Reviewing all of the mattresses sold throughout the past year, 2014 was the best year for buying chemical-free mattresses.
As for the Top Seller List for The Futon Shop, there are three organic mattresses that have outsold the rest: The EcoPure, Chemical Free, and Pure Comfort. All three mattress brands are pesticide-free, petrochemical-free, and have no chemically made fire retardants. Each mattress has its own unique quality and comfort level. The Comfort Rest is firm with organic cotton, virgin wool and organic latex. The EcoPure has just two ingredients: wool and organic latex. These two chemical-free ingredients are perfect for sleeping on a firm mattress with a plush topper feel. Lastly, the chemical-free Pure Comfort futon is a favorite among traditional mattress sleepers. This mattress is rated as the top of the chemical-free mattresses because of its three inch pocketed coils and surrounding organic cotton and virgin wool. The chemical-free Pure Comfort mattress is a soft and plush and is best used as a couch to sink into for hours or a bed to doze off into dream land.
About The Futon Shop:
The Futon Shop is dedicated to making futon mattresses without chemicals of any kind. The Futon Shop is a mattress manufacturer and retailer that maintains sustainable practices, hand-making each mattress in San Francisco. The Futon Shop leads the nation as the largest organic futon mattress retailer and manufacturer because they provide customers with premium quality and comfortable furniture. The Futon Shop specializes in organic futon mattresses, natural platform beds, modern sofa designs, futon frames, decorative futon covers, eco-friendly soy-based folding foam, and a large selection of kids and dorm room furniture.