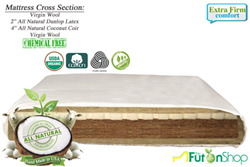 San Francisco, Ca (PRWEB) April 14, 2015
TheFutonShop.com, retailer and manufacturer of organic bedding, is excited to announce their high quality coconut mattress line. These chemically free and naturally fire resistant mattresses are a new addition to high quality organic furniture.
Spring has sprung and it is about to get hot out there. The Futon Shop's coconut mattresses are the newest big rave hitting the mattress industry. These mattresses have coconut infused latex made with a few different ingredients to make them vary in comfort levels. These chemical free mattresses have a natural rubber resin, which creates excellent ventilation and are naturally hypoallergenic.
The Coconut futon mattresses are also a great alternative for memory foam mattresses because the coconut mattresses lack heat and water retention. Moisture from the air and sweat from sleeping does not get trapped in the fiber, which decreases chances of mold, mildew, and heat like other products in the mattress industry. The Futon Shop's new line of eco friendly mattresses offer a solution to comfort and support while sleeping, giving a restful sleep. Adding the coconut futons to The Futon Shop's Mattress line maintains their high level of Eco-Consciousness to strive for a better future for the planet and work toward bringing healthier home options for customers.
The new line of coconut mattresses have 100% natural latex and natural rubber resin from coconut trees, both without chemicals or off gassing in The Futon Shop's production or in their ingredients. The Futon Shop's Coconut mattresses last a lifetime and are guaranteed with many certificates. Some of the certifications range from Oeko-Tex standard 100 product class articles. The First one is ISO14001; a certificate for environmental management system and the second one is ISO9001 for quality assurance.
Sleeping on a coconut Coir futon mattress made by The Futon Shop is the next best thing to sleeping on all natural ingredients made from the planet. These mattresses are healthy for the environment and healthy for any family bringing comfortable non-chemical mattresses into their home.
About The Futon Shop:
The Futon Shop is a vertically integrated retailer that manufacturers over 33 organic and green mattresses from start to finish. The company dates back to 1976 led by Suzanne Diamond and her team of specialists dedicated to producing eco friendly furniture and bedding. Their mission is to produce the best eco-friendly, Organic and Natural futons, organic futon mattresses, futon covers for sofa beds, futon frames, and platform bed frames that promote better healthy living and a good night's sleep for all.